Watch: Creepy Japan video invites tourists to live in 'zombie town'
The Japanese village of Kosuge is trying to draw visitors this Halloween with a horror video game spoof.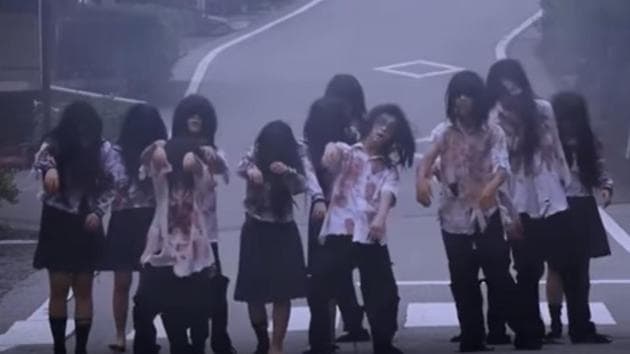 Updated on Oct 31, 2017 02:57 PM IST
A remote Japanese town is hoping to entice brave souls to come and live among them with a ghoulish video game spoof featuring flesh-eating zombies – just in time for Halloween.
The misty village of Kosuge, located in the mountains some 90 kilometres west of Tokyo, has just 700 inhabitants.
With many younger villagers leaving to work or study in the cities, local authorities have concocted a cunning plan to try to lure new residents. A creepy short promotional film introduces Kosuge's leafy vistas, but with a chilling twist as inhabitants dressed in blood-soaked zombie outfits lurch toward the camera as if in a gory video game.
As the living dead roam the deserted streets in search of fresh meat, even the town's mayor makes a cameo appearance in the five-minute film, walking into a wall to mimic a video game flaw, according to a voice-over.
A classroom of zombie schoolgirls is shown groaning in response to a teacher's question, before the character behind the camera introducing the viewer to the spooky village is attacked by a bear in the woods.
The trailer, which has already been widely shared online, ends by asking viewers if they want to try Kosuge village "for real" – although whether the blood-curdling spoof will be enough to tempt any new visitors beyond horror buffs remains to be seen.
Close Story
Personalise your news feed. Follow trending topics