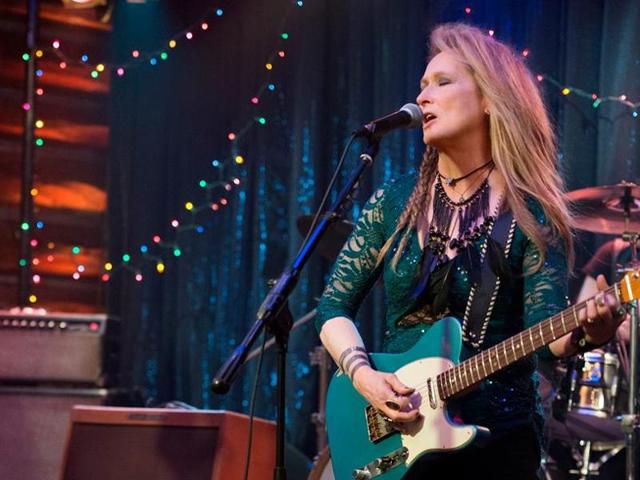 Cairo Film Festival begins with Meryl Streep work
The 37th edition of the Cairo International Film Festival opened here on Wednesday evening with an American work, Jonathan Demme's Ricki and The Flash.
Hindustan Times | By Gautaman Bhaskaran
, Cairo
UPDATED ON NOV 12, 2015 05:13 PM IST
The 37th edition of the Cairo International Film Festival opened here on Wednesday evening with an American work, Jonathan Demme's Ricki and The Flash. That wonderful actor, Meryl Streep, plays an ageing rocker, who while chasing her dreams, abandons her family. Years later, Streep -- Linda or Ricki -- who is part of the band called The Flash is disillusioned when her role is reduced. And when her former husband calls asking her to help their suicidal daughter, Julie, get back on her feet again, Ricki travels to Indianapolis -- where old wounds have not quite healed.
Written with warmth and wit, Ricki and The Flash is not one of those heavy sob stories. The anger and rancour are dealt with subtlety -- even though there are heart-rending emotional upheavals. Ricki's son does not invite his mother to his wedding! For all this domestic storm, the movie appears light and even breezy at times. This is welcome indeed, given the festival's turbulent past, its history linked with Egypt's political instability. The festival was twice cancelled -- in 2011 and 2013 -- because of the political unrest, which the world called Arab Spring.
Read: Radhika Apte replaces Farah Khan on Cairo Film Fest jury
In 2012, many Egyptian artists boycotted the festival, because they felt that "third-rate commercial actors" had been invited at the cost of emerging talents. That year, the closing ceremony at the Opera House had to be cancelled, because of clashes at the nearby Tahrir Square. The world over, film festivals have had their share of troubles. Even the Queen of all, Cannes, had had a couple of closures -- once in the late 1960s because of workers' and students' demonstrations. Venice, the world's oldest festival, had seen many rough patches.
This year, the Abu Dhabi Film Festival drew its curtains for good. Nobody knows the actual reason. A few years ago, the festival at Doha shut down. Happily, the Dubai International Film Festival has been growing -- the closure of Abu Dhabi and Doha perhaps working in its favour -- as far as the choice and availability of movies are concerned.
Watch Ricki and The Flash trailer here:
The Cairo International Film Festival is the oldest in the region, having been established in 1976 by writer Kamal El-Malkh.
This year, the festival has its first ever woman President, Magda Wassef. And she said in a recent interview to Ahram Online: "The 37th edition is a sequence of all the previous editions of the festival. However, there are a couple of enhancements such as Cairo Film Connection workshops, we kept the parallel programmes-Horizons of the New Arab Cinema, International Critics Week and Cinema of Tomorrow and we made sure that the Competition that we started last year would continue.
"Each year we make sure the panel discussion continues. We're having two panel discussions. One about movie restoration and preservation as well as the history of films in Egypt. The other panel is going to be called Cinema and Country and it's about the role that the State has played in the movie making industry.
Read: Prashant Nair's Umrika goes to Cairo Film Festival
"There is another parallel programme about Japanese animated cinema and a screening of seven films by Ghibli.
"Also, we will have tributes to famous Egyptian icons that we lost this year and a tribute to the international icons who are going to be here for the festival such as Claudia Cardinale and Farah Khan. And from Egypt, Hussein Fahmy and Nelly Karim are receiving excellence and honorary awards."
The festival runs till November 20, and includes four Indian titles -- Prashant Nair's Umrika (in Competition), Ruchika Oberoi's Island City, Meghna Gulzar's Talvar and Farah Khan's Om Shanti Om.
India's Radhika Apte will be part of the international jury.
(Gautaman Bhaskaran is covering the Cairo International Film Festival.)
ott:10:ht-entertainment_listing-desktop

Close