Explained: How to become a space tourist and the cost
Jeff Bezos' Blue Origin is the latest to go to the edge of the space after billionaire Richard Branson achieved the feat earlier this month. The visits are opening up the space tourism frontier, lining up enthusiasts who wish to 'touch' the unknown.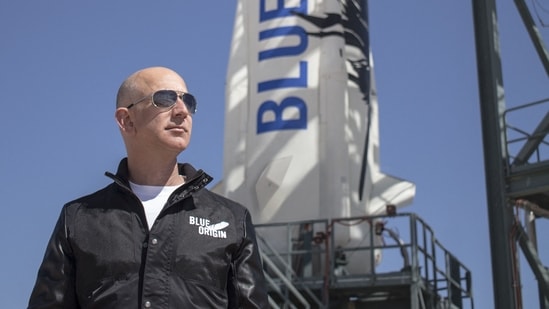 Published on Jul 18, 2021 01:16 PM IST
Space will soon become a place, not just for astronauts but also tourists who can book a flight to go to the edge of unknown and take experience of a lifetime. Two billionaires - Virgin Galactic's Richard Branson and Amazon founder Jeff Bezos are taking early strides to open up the frontier for space tourism.
While Branson successfully spent some time at the edge of the space, Bezos - through his other company Blue Origin - will undertake the journey on July 23.
The nearly 11-minute flight will see Blue Origin crossing the Karman Line, 100 kilometres above, from where the limit of the space starts and descend through a parachute to a desert in Texas.
What will it take to become a space tourist?
Nothing much actually. The person interested to go to space should be in reasonable shape. Virgin Galactic has said that its training will last for five days during which the astronauts will learn how to make the most of time spent in microgravity, as well as how to be safe and comfortable during periods of high acceleration. The company will also keep aerospace medical experts on hand to offer advice and help and check pre-flight fitness.
Blue Origin, meanwhile, will teach the potential astronauts everything they need to know for the space visit. Though it has not listed the day-wise training schedule, Blue Origin expects the participants to be able to climb seven flights of stairs (the height of the launch tower) in under 90 seconds. It has also prescribed a height requirement between 5'0" and 110 pounds (152 centimetres and 50 kilograms) and 6'4" and 223 pounds (193 cm and 100 kg).
What will be the cost?
This is the part which takes space tourism to selct few. Virgin Galactic sold the initial tickets at $200,000 to $250,000 each. And it has warned that the price will increase in the future. The company has so far sold 600 tickets.
Blue Origin has so far not announced the price of its tickets.
For those looking for a cheaper option, Florida-based company Space Perspective is taking space tourists on its Spaceship Neptune - a balloon-shaped pressurised capsule - for $125,000 a seat. However, the capsule will ascend only 19 miles - far from the boundary of space, and weightlessness. Still, 300 seats for 2024 have all been sold.
How soon can space tourism begin?
Virgin Galactic has said it will launch regular commercial flights from 2022, after two more test flights. Once the full-fledged operations are launched, the goal is ambitious: 400 flights per year.
As for Blue Origin, no detailed calendar has been announced. The company's spokesperson, however, said earlier that they plan to launch their operations in 2022.
What about Elon Musk?
Musk and his company SpaceX is also getting into the space tourism game, but its plans involve journeys that are far longer. The costs are also predicted to be astronomical - tens of millions of dollars.
Topics
Close Story