Netaji's daughter pushes for DNA test, to meet PM Modi
Subhash Chandra Bose's death has long been the subject of debate, with some claiming he survived the crash, returned to India and lived anonymously.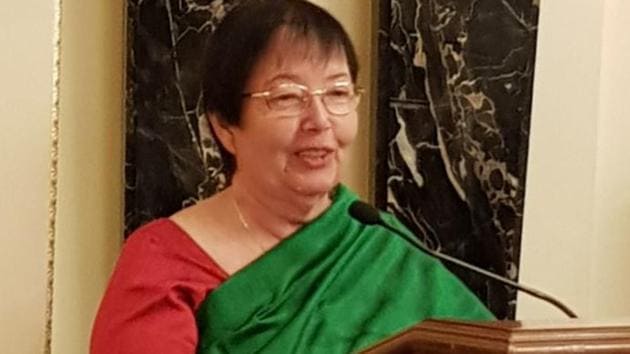 Updated on Oct 24, 2017 10:23 PM IST
Anita Bose-Pfaff, the daughter of Subhash Chandra Bose, has said she is looking forward to meet Prime Minister Narendra Modi next year for take forward her plans to bring the iconic leader's ashes from a temple in Japan to India and conduct a DNA test.
The plan to do a DNA test on the remains has long been mooted to scientifically prove that Bose died in a plane crash in Taipei on August 18, 1945. His remains after his cremation were reportedly stored at Renkoji temple in Tokyo.
Bose-Pfaff, 74, who was in London to deliver a lecture on "70 years of free India: What might Netaji have hoped for", told Hindustan Times it was time to bring closure on the issue through the DNA test, at least for the section of the Indian public that is amenable to scientific arguments.
Bose's death has long been the subject of debate, with some claiming he survived the crash, returned to India and lived anonymously.
But Bose-Pfaff, who has no memory of her father because she was a month old when he last saw her, is convinced of his death.
"Two inquiry commissions came to the conclusion that he died in the plane crash. Recent documents released by the Japanese government essentially supported this, other documents did too. This is the only consistent story of his life," she said.
"Given the life that my father had had, which was very unusual, all sorts of stories cropped up. If you start with some idiotic story of 'Gumnami Baba' as Netaji, it is stupid. It is an insult to Netaji.
"Just imagine this man who sacrificed so much for his country, would come back and live in questionable circumstances in a place in Uttar Pradesh. It just makes no sense at all. For me, this is the only reality (that he died in the crash), some of my relatives have other views. It's a free world," she added.
It would be important for the Indian and Japanese governments and herself to agree on taking the ashes to India and conducting the DNA test: "I am not talking about the rest of the family because like any big family there are as many opinions as you have people, and on that issue the family is divided."
According to Bose-Pfaff, neither the Indian nor the Japanese government want to move first or put the other in an awkward position. "We'll have to see what Mr Modi will say: OK go ahead, or he might also say no. Politicians have a way, if they don't find advantage, they don't do things. It would be helpful if the Indian government, after dilly-dallying all these years, took a clear stand."
She added, "I have not seen him (Modi), but he is aware of that, but I have talked to the embassy in Germany that this is what I want to do. So he must be aware of what I want to talk to him about. The only way is to go and see him next year, which is most likely."
Clad in a green sari and red blouse, she referred in her lecture to her father as Netaji, recalling his words, deeds and India's history, and ended it with "Jai Hind". She regretted that it was only in 1979 under a non-Congress government that veterans of her father's Indian National Army were given the status of freedom fighters.
After independence, India could not have continued to exist in any other form but as a secular state, Bose-Pfaff said. The course of history could have been different if Bose had survived until independence and beyond.
"We can be certain that Netaji would not have envisaged that poverty, illiteracy and health would improve at such a slow rate, leave alone not be eradicated by today. And I cannot help being very sad when I try to imagine what the freedom fighters of my father's generation would think, if they knew what has become of their beloved country in that respect," she said.
A retired professor of economics at the University of Augsburg in Germany, Bose-Pfaff is married to Martin Pfaff, a former member of German parliament. The couple has three children.
Close Story