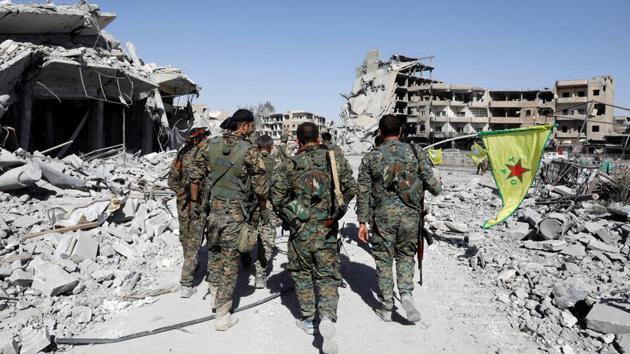 US-backed forces comb Syria's ghost city of Raqqa after Islamic State ouster
Two days after retaking Raqqa from Islamic State group jihadists and dealing their dreams of statehood a fatal blow, US-backed forces combed the ruins of the Syrian city for survivors and bombs
Agence France-Presse, Raqqa | By Agence France-Presse
UPDATED ON OCT 19, 2017 10:56 AM IST
Two days after retaking Raqa from Islamic State group jihadists and dealing their dreams of statehood a fatal blow, US-backed forces combed the ruins of the Syrian city for survivors and bombs.
A lightning final assault by the Syrian Democratic Forces on Tuesday saw jihadist defences collapse faster than expected as the SDF claimed a landmark victory in the three-year fight against IS.
SDF fighters flushed jihadist holdouts from Raqa's main hospital and municipal stadium, wrapping up more than four months of fighting to seize what used to be the inner sanctum of IS's self-proclaimed "caliphate".
On Wednesday, SDF forces fired into the air and danced the traditional Middle Eastern dabke line dance to blaring music amid the otherwise eerie silence of the city.
Inside the stadium, the militia's flag was raised as bulldozers worked to clear the ground of explosives that IS had strewn throughout the city.
Many roads were still closed off, and access to the hospital was blocked while fighters worked to clear it.
Teams of SDF fighters were deployed across the rubble-strewn streets to look for unexploded ordnance and booby traps left by the jihadists.
"They are making sure there are no more sleeper cells" in Raqa, SDF spokesman Mustefa Bali told AFP.
"Mine-clearing operations and the re-opening of the city are under way," he said, adding that his organisation would only formally announce the liberation of the city once they are completed.
- City unsafe -
"We urge our people... who fled IS rule not to return to the city for their own security until it is rid of terrorist explosives," the Kurdish internal security services said in a statement.
But some SDF fighters are themselves from Raqa.
Under the stadium, SDF member Ahmad al-Hassan returned to an oval hallway lined with makeshift cells where IS locked up civilians accused of breaking its ultra-conservative rules.
"This is where they humiliated us," he said, near the room where he was kept for seven days with 35 other men after he tried to prevent his wife's arrest for briefly showing her face in public.
The loss of Raqa left IS ruling over a rump "caliphate" straddling the Iraqi-Syrian border and covering a fraction of the territory it held when it declared its "state" in July 2014.
The US-led coalition supporting anti-IS forces in Iraq and Syria said on Tuesday that the jihadists had lost 87 percent of the territory they held three years ago.
Brett McGurk, the White House's envoy to the multinational coalition, said on social media that IS had lost 6,000 fighters in Raqa.
He described the organisation as "pathetic and a lost cause".
Raqa was one of the most emblematic IS bastions, at the heart of both its military operations and its propaganda.
Several of the most high-profile attacks IS claimed in the West, including the 2015 massacres in Paris, are believed to have been at least partly planned in Raqa, earning the city the nickname of "terror central".
- 'Some surrendered, others died' -
Clara Raqqa, a top SDF commander, smiled and squinted into the sun as she stood at the iconic Al-Naim roundabout where IS carried out some of its most gruesome atrocities.
"Today, after all these years, we are here," she said. "I remember my childhood here, my teenager years... I'm so happy that we've reached the days of freedom."
Jamila Hami, a volunteer with the Kurdish Red Crescent, said rebuilding the city's medical infrastructure would pose major challenges.
"Yes, Raqa is now liberated, but the next phase for us will be even harder than the one that has passed," she said.
"They say that they want to rebuild Raqa. Rebuild what?" said Ismail Khalil, an SDF fighter originally from Raqa.
"Even in 20 years we couldn't rebuild. The city is totally destroyed," he added.
The breakthrough in the operation to retake Raqa came last week when a local deal was struck for the safe exit of several thousand civilians who had been used as human shields by IS, while Syrian jihadists surrendered.
Up to 400 mostly foreign IS fighters had been believed to remain in the city, prepared for a bloody last stand.
Yet events since the Sunday announcement of the operation's final phase gives few clues as to their fate.
"Some surrendered, others died," Talal Sello, another SDF spokesman said, without providing further details.
The Syrian Observatory for Human Rights, a Britain-based monitor relying on a network of sources across Syria, said most of the foreign fighters surrendered and were being held by Western intelligence services.
It was not immediately possible to corroborate his claim.
Colonel Ryan Dillon, the US-led coalition's spokesman, only spoke of four confirmed cases of foreign IS fighters surrendering and stressed that they were in SDF custody.
"We as the coalition do not hold or control any of these detainees," he said, adding the SDF may make separate arrangements with the detained jihadists' countries of origin for some of them to be handed over and prosecuted.
Close