Children bear the brunt of caste abuses in rural MP
From being forced to eat mid-day meals in marked-out plates to being asked to sit in the back rows of their classrooms, Dalit schoolchildren across rural MP face some 70 kinds of grim abuses, a study reveals.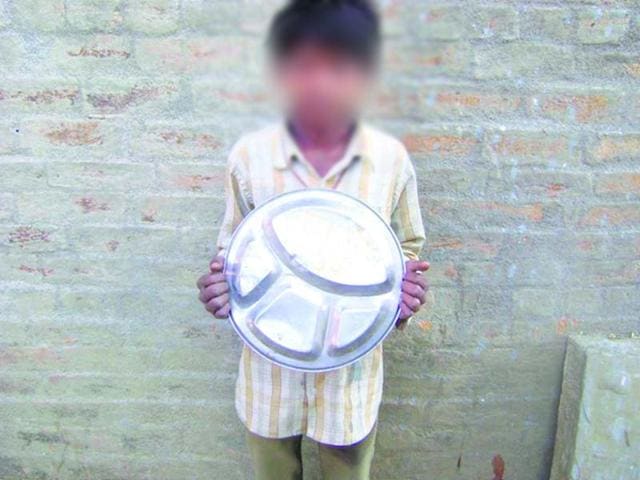 Updated on Dec 06, 2014 05:45 PM IST
Hindustan Times | By Sravani Sarkar
, Bhopal
From being forced to eat mid-day meals in marked out plates to being asked to sit in the back rows of their classrooms, Dalit schoolchildren across rural Madhya Pradesh face dozens of grim abuses, a new study backed by rights group ActionAid has revealed.
The findings fly in the face of Madhya Pradesh's image as one of India's fastest growing states, showing that the winds of change maybe bypassing much of its socially backward pockets. Caste discriminations were recorded in all the surveyed villages with abuses being the worst in the Bundelkhand region.
For instance, in Dahi village of Dhar district, Dalit school kids are told that they would get scholarships only after they produce photographs of family members skinning dead animals, considered their traditional occupation.
Another macabre practice was reported from Kathara village of Chhatarpur, where children are divided along caste lines before the mid-day meal is served to them.
Some of the other outrageous discriminations include stopping Dalit children from drinking water from common facilities in schools or touching mid-day meals as well as being referred to by their caste identity by teachers.
Reacting to the survey, Gyan Singh, the state minister for SC/ST welfare, said: "We, especially the chief minister, are very sensitive toward the issue.
"Whenever any incident comes to notice, we immediately direct strict action. We would be discussing the issue of discrimination in-depth during a meeting scheduled on December 11."
The survey, carried out by Dalit Adhikar Abhiyan, an umbrella organisation of about half a dozen local groups working for scheduled caste rights, covered about 62,500 people in 30 villages of 10 districts across the state.
In all, 412 Dalit families and 61 panchayat representatives and government servants of SC category were covered in the survey, which was funded by ActionAid and conducted between January and August this year. The findings were released on Friday.
The surveyed districts were Khandwa, Harda, Hoshangabad, Narsinghpur, Morena, Bhind, Rewa, Satna, Sagar and Chhatarpur.
The study catalogued some 70 kinds of discriminations, 54 of them practiced in Bundelkhand.
"Once Dalits challenge the authority of the so-called higher caste people, who are also economically stronger, discrimination turns into atrocity and violence is perpetrated commonly," said Rajendra Bandhu, one of the authors of the study.
In June 2014, Manoj, a Dalit bridegroom of Sadwa village in Chhatarpur district was beaten up along with others in marriage procession for daring to ride a mare.
Caste discriminations are also affecting the education of children with 31% children surveyed regularly staying away from school and 55% of the surveyed families saying that their children could not study properly. About 46% of Dalit children cannot muster the courage to ask questions to the teachers.
Abuses were also been reported in Anganwadi functioning, delivery of health services and distribution of subsidised ration.
According to the National Crime Records Bureau (NCRB) report of 2013, MP recorded fifth highest incidents of atrocities against dalits in the country. In 2013, 2945 cases were reported or eight incidents a day.

Major findings

· Discrimination prevalent in 100% of surveyed villages. 70 kinds of discrimination identified
· Dalits not allowed to touch food and water in common gatherings, twisting their names, referring them by caste most prevalent
· Entry in temples not allowed in 80% villages. Dalits are not given haircut or shave
· 79% dalit children sit in back rows in classes, none of them allowed to drink water from common facility
· 88% discriminated against and also sometimes beaten up by teachers
· 79% can't touch mid-day meals. Made to sit separately and plates marked in 28% cases
· 27% dalit kids can't enter anganwadis, 35% made to sit separately
· Health field staff does not visit 65% dalit settlements
· 47% dalits not allowed entry in ration shops and 64% are given less grains. 52% given grains from a distance.
Close Story