Celebs respond to minister Rajyavardhan Rathore's call #HumFitTohIndiaFit, bring a fitness wave in India
May 25, 2018 01:12 PM IST
Union minister Rajyavardhan Rathore's challenge on Twitter, to celebrities such as cricketer Virat Kohli and actor Hrithik Roshan has transpired into a national movement of sorts encouraging people to adopt a healthy lifestyle .
Gymming, cycling, planks, yoga and every possible form of exercise is being tried out in the videos being uploaded across various social media platforms. The credit for bringing healthy lifestyle into vogue goes to #HumFitTohIndiaFit challenge by Sports Minister Rajyavardhan Rathore via a Twitter video – where he shared that he's inspired by PM Narendra Modi's spirit to work relentlessly while staying fit.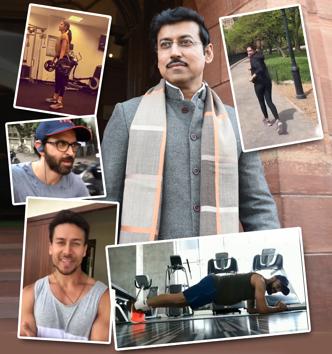 The Youth Affairs and Sports Minister and Minister of Information and Broadcasting Rathore himself was an Olympic silver medallist in double trap event.
READ | PM Modi accepts Virat Kohli's fitness challenge, to post workout video soon
In the video uploaded on Twitter, Padma Shri Rathore is seen doing push-ups while talking without a pause, and asking people to: 'Post pictures and videos of how you keep yourself fit and send a #FitnessChallenge to your friends on social media.' The minister even challenged actor Hrithik Roshan, Indian cricket captain Virat Kohli and badminton ace Saina Nehwal. All three have taken it up, too. Hrithik uploaded a video of him cycling to his office and Saina has uploaded a video of herself doing dead lifts. And these celebs have in turn challenged others to do the same, thus creating a wave of fitness in India that's being promoted via the virtual world.
Even PM Modi has accepted the challenged from Virat, however, he was yet to upload the video at the time of this article being published. The videos have certainly inspired many, as general public have also started uploading videos of their own fitness mantra.
Celebrity yoga expert Payal Gidwani Tiwari says, "To have a minister talk about making India fit is very inspirational. Modiji has already made yoga big, and now if we have fit ministers and police personnel then common people are going to pick up the challenge and this will go a long way. And it's good because after all a happy mind resides in a fitter body. So a fit India will be a happy India."
Wrestler Babita Kumari has already taken up the challenge and uploaded a video of her whereas her elder sister Geeta Phogat is also planning to follow soon. "Zaruri nahi hai har koi Olympic me medal jeetna hai ye soch ke fit rahe. Har insaan ko fit rehna isliye zaruri hai ki hume zindagi ek bar milti hai aur usmein sabse zaruri humare liye humara swasth hai. Jab hume koi takleef ho jati hai, koi beemari ho jati hai tab hume ye dimag mein aata hai ki humne pehle kyun nahi apne sharir ka dhyan rakha. Exercise ka bahut hi aham yogdan hai kyunki agar hum din mein ek bar bhi workout kar lete hain to hum khud ko fresh feel karet ehian aur humari puri dincharya badal jati hai (It's important for every human being to remain fit because we get to live only once. And the most important thing in our life is our health. Exercise plays a very important role because even if we work out once in a day, we feel fresh, and it helps change our daily routine)," says Geeta.
READ | Get the will to be fit: Rajyavardhan Rathore
Applauding the positive impact of the challenge, former Indian footballer Bhaichung Bhutia says, "Rajyavardhan Rathore is himself a sportsperson so it's great that he has initiated something like this. And people in India need to be aware that sports is not just about being a professional athlete but also being healthy. So, I hope it influences people to take up the challenge and stay fit."
Athlete Anju Bobby George applauds this effort to make people aware about the need to stay fit. She says, "Staying fit is very challenging because we don't get time. Actually finding time is a real challenge because in real world we are all looking for something else, and have other priorities in our life such as giving time to children, family or job. But somehow, at least one or two hours in a routine we should exercise and keep ourselves fit. This is the main thing what we need to do in our life, for ourselves and our families and community."
Interact with the author at Twitter/@HennaRakheja