India players' body a non-starter as Virat Kohli, Anil Kumble push for salary hike
Updated on May 24, 2017 10:22 PM IST
Virat Kohli and Anil Kumble have sought an increase in their salary but the Committee of Administrators have made it clear that they will not increase the 26% share from BCCI revenue that is being alloted for aying players.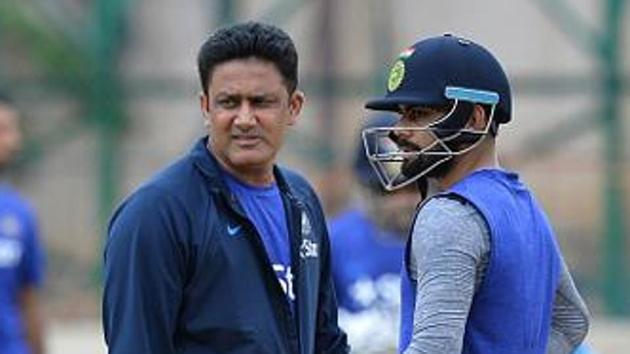 While the Australian Cricketers' Association (ACA) is bargaining hard with Cricket Australia, Indian players, top international stars as well as domestic players too are demanding a hike in match fees.
Coach Anil Kumble and captain Virat Kohli interacted with BCCI officials and Committee of Administrators, seeking a 150% raise in retainership for Grade A India players. Kumble also sought an increase in the salary of support staff, including him.
However, the CoA made it clear it will not increase the 26% share from BCCI revenue that is allotted for paying players.
A top BCCI official said any increment for the international players (Kumble wants his fees to be hiked to R7.5 crore from R6.5 crore) will mean reducing either the share of state associations or domestic players.
"The CoA made it clear to the players at the meeting that they won't increase the share from the current 26% of BCCI revenues, half of which goes to top stars and the remaining to first-class, junior cricketers etc," he said. "Honestly, Kumble & Co are being inconsiderate. The first-class players too want an increase and state bodies too don't want to take a hit."
The Justice RM Lodha panel report had recommended the setting up of a BCCI-funded players' body. It wants it to be an association and not a union as in Australia.
The Lodha panel had named a committee comprising Diana Edulji, Mohinder Amarnath, former union home secretary GK Pillai and Kumble to take the issue forward. But there has been no headway.
Sports lawyer Vidushpat Singhania told HT: "The ACA is seemingly now moving towards the American model where the combined players' body -- NCAA --- bargains and reviews its terms with sports associations every few years. However, we are only at stage 1."
One of the reasons cited for the delay in forming a players body is that Indian cricketers are powerful enough to bargain with BCCI on their own, although not arguing for others.
Former India batsman Abbas Ali Baig, who was a member of the previous players' body that didn't take-off around 15 years ago, said: "The reason players' body wasn't successful in India is because players have been strong enough to talk to the administrators on their own. There is always a need for a players' association. But it should bargain for all cricketers, including those at the bottom rung."
Personalise your news feed. Follow trending topics