Ajay Maken resigns as Delhi Congress chief, sparks buzz about successor
Updated on Jan 04, 2019 12:52 PM IST
Senior Congress leader and party's Delhi unit chief Ajay Maken resigned from his position on Thursday citing health reasons.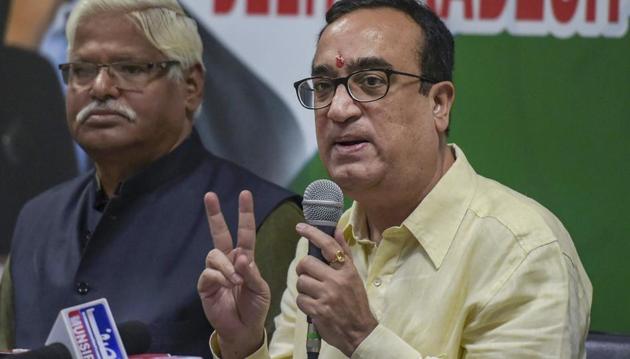 New Delhi |
Aurangzeb Naqshbandi and Soumya Pillai
Senior Congress leader Ajay Maken resigned as party's Delhi unit chief on Thursday citing health reasons. Party sources said Maken met Congress president Rahul Gandhi on Thursday evening to hand over his resignation. His resignation has been accepted. Maken had even earlier expressed his desire to resign from his position on health grounds but Rahul Gandhi had asked him to continue back then.
"After the 2015 Vidan Sabha elections, as the Delhi Congress chief, I have received a lot of love from Delhi Congress workers, the media covering the party and from our party head Rahul Gandhi ji. In these difficult times, it was not easy. I thank you all for everything," Maken tweeted on Friday morning.
AICC Delhi in-charge PC Chacko told HT, "Ajay Maken had resigned in September but was asked to continue. Now, he was again asked if he wanted to continue or be relieved of the responsibilities. He insisted on being relieved. So, Congress president Rahul Gandhi has accepted his resignation and we are now looking for his replacement."
He said no name has yet been finalised for Maken's replacement.
Resignation of Ajay Maken has come at a time when there has been speculation about a possible alliance between the Congress and the Aam Aadmi Party or the AAP for Lok Sabha elections later this year. Maken is believed to be opposed to the view supporting such an alliance.
The AAP had registered an overwhelming victory in 2015 Delhi Assembly elections, when the Congress failed to win a single seat. The party was in power for 15 years with Sheila Dikshit as the chief minister before it was voted out in 2013, when the assembly polls resulted in a hung assembly.
Maken took over as the Delhi Pradesh Congress Committee or DPCC chief in March 2015 soon after the assembly elections. He replaced Arvinder Singh Lovely, who was a minister in Sheila Dikshit government. Later in 2017, Lovely switched over to the BJP before returning to the Congress fold in February last year.
Several names including that of Dikshit are doing rounds as possible replacement for Maken. One view within the Congress party suggests that Dikshit be appointed as the DPCC chief.
A senior leader of Delhi Congress said it is likely that former Delhi chief minister Sheila Dikshit will take over the position and work towards strengthening the party's prospects in the national capital for the upcoming Lok Sabha elections and the assembly elections of 2020.
Another view has supports appointment of a leader as the Delhi Congress chief who is open to an alliance with the AAP for 2019 Lok Sabha elections not only in Delhi but also in Punjab and Haryana.
Incidentally, HS Phoolka, the senior AAP leader from Punjab, resigned from the party on Thursday. Phoolka has been a critic of the Congress party and a petitioner in the 1984 anti-Sikh riots.
Meanwhile, a senior Congress functionary said Congress general secretary KC Venugopal will look after the party affairs in Haryana. The appointment of Venugopal, who held the charge of Karnataka till now, as Haryana in-charge comes eight months after general secretary Kamal Nath was named as the Madhya Pradesh Congress chief. The post of Haryana in-charge had been lying vacant till now.
Personalise your news feed. Follow trending topics