Several flights affected, trains running late as dense fog covers Delhi
Updated on Jan 18, 2019 11:50 AM IST
Ten trains to the national capital were also running late on Friday due to fog and low visibility.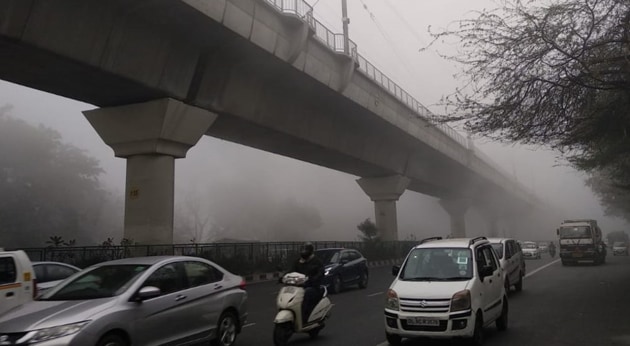 A dense fog covered Delhi on Friday disrupting the schedule of several flights and trains and forcing the city traffic police to issue an advisory to commuters to drive with caution.
At least a dozen flights were put on hold at the Delhi airport in the morning for nearly three hours because of low visibility conditions, officials said.
The schedule at the Indira Gandhi International Airport was affected from 5:30am to 7am and at least five flights, including one from Singapore, were diverted to other airports, they said.
"The departures were happening until almost 530am and arrivals until about 6am. Post that a few arrivals have happened intermittently. However, due to less than the required minimum [visibility], the departures have been on hold," a Delhi airport official, who did not want to be named, said.
Also watch: Flights, trains delayed as dense fog covers Delhi
Some flights landed with the help of CAT III-B Instrument Landing System (ILS) that allows aircraft to land safely in low visibility, the official said. He added that departures resumed at 7am.
"Due to adverse weather conditions (fog) at #Bengaluru and #Delhi, some of our flights have been affected," Jet Airways tweeted.
The Indira Gandhi International Airport is the busiest in the country and sees more than 70 flight movements per hour on an average. This includes both arrivals and departures.
Ten trains to the Capital were also running late by at least six to two hours on Friday due to fog and low visibility. Purushottam Express from Odisha's Puri was running six hours behind schedule and Mahabodhi Express from Bihar's Gaya was reported to be five hours late.
Traffic in the national capital was also affected as police issued a list of dos and don'ts to motorists during morning rush hour.
"Visibility low due to intense fog in the border areas and area around India Gate in Delhi. Drive with caution. Maintain moderate speed. Drive with headlamps switched on," Delhi Traffic Police tweeted.
The India Meteorological Department has said that dense fog is very likely over Delhi, Punjab, Haryana and Chandigarh in the morning.
"Cold wave conditions at a few places very likely over Punjab and at isolated pockets over Haryana, Chandigarh & Delhi, West Uttar Pradesh, East Madhya Pradesh and interior Odisha," the weather office said.
The national capital was shrouded in "severe" pollution as Thursday recorded the second-worst air quality of this year with the air quality index (AQI) at 440. This was the third-worst reading this winter, attributed by experts to low temperature and slow wind speeds at the surface level that were preventing against the dispersal of suspended pollutants.
Officials said the air is expected to remain in the "severe" category – a classification when AQI is above 400 – till Saturday.
Personalise your news feed. Follow trending topics