Live
Assam HSLC Result 2022 Live: Raktotpal Saikia tops SEBA 10th result, 56.49% pass
Jun 07, 2022 11:55 AM IST
Assam HSLC Matric Result 2022: SEBA has declared Class 10 or Matric result on sebaonline.org and resultsassam.nic.in
Assam HSLC Class 10th Result 2022 Live Updates: Board of Secondary Education, Assam (SEBA) has declared HSLC or Class 10 result. Assam Matric result 2022 mark sheets are available on the board websites using their roll numbers.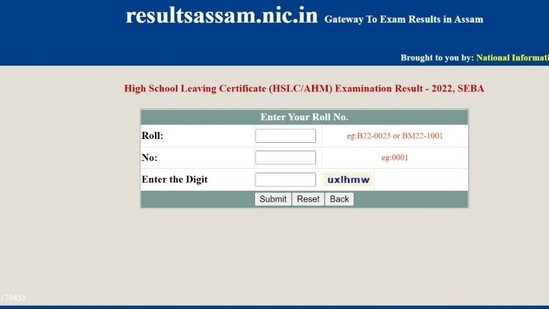 This year, a total of 4,19,887 students have appeared for Matric examination in Assam.
A total of 405582 candidates appeared for HSLC final exam in Assam, of whom 229131 or 56.49% have passed.
Raktotpal Saikia of St Mary's High School, North Lakhimpur has topped the exam with 597 marks.
Along with HSLC result, Assam High Madrassa Examination (AHM) 2022 results will also be declared. As many as 11,245 students are waiting for AHM result 2022.
Along with Assam HSLC result and AHM result, SEBA will publish list of top 10 successful candidates in both exams.
Follow all the updates here:
Jun 07, 2022 11:55 AM IST

Assam HSLC result 2022: Marks sheets and certificates

Original copies of HSLC exam mark sheets and certificates will be distributed among students later. Students can download digital marks sheets from sebaonline.org.

Jun 07, 2022 11:21 AM IST

Assam HSLC result 2022: Himanta Biswa Sarma congratulates students

Congratulating students who passed the HSLC exam this year, Assam Chief Minister Himanta Biswa Sarma wrote on Twitter: "Heartiest congratulations to all those who came out with flying colours in HSLC & AHM exams. These sharp young minds are definitely an asset to our State."

To candidates who did not qualify, he said: "Those whose results weren't as per expectations mustn't lose heart but keep working hard. There's still a long way to go."

Jun 07, 2022 10:36 AM IST

Assam HSLC result 2022: Only 34.27% students pass in Chirang

While Dhemaji is the best-performing district in HSLC exam 2022, Chirang stands in the bottom of the table. In Chirang, only 34.27% of total students who appeared for the HSLC exam have managed to pass.

Jun 07, 2022 10:27 AM IST

Assam HSLC result 2022: Division-wise

1st division: 65176 students

2nd division: 99854

3rd division: 64101

Jun 07, 2022 10:24 AM IST

Assam HSLC result 2022: Highest letter marks in English

As many as 23251 students have scored letter marks (80 or above) in English in HSLC exam 2022, which is the highest for a subject.

Assamese: 14432

Hindi: 1881

Adv Maths: 8327

Sanskrit: 3597

Arabic: 6098

Geography: 9045

Computer Science: 6822

English: 23251

Maths: 20544

Science: 14227

Social Science: 21008

Jun 07, 2022 10:17 AM IST

Assam HSLC result 2022: Dhemaji district best performer

In Dhenaji, the pass percentage of students in HSLC exam 2022 is 85.46% which is the bast among all districts. A total of 13452 students appeared for Matric exam in Dhemaji, of whom 11496 have passed.

Jun 07, 2022 10:12 AM IST

Assam HSLC result 2022: Lowest pass percentage in 4 years

This year, 56.49% students have passed the HSLC exam in Assam, which is the worst performance in 4 years.

2021: 93.10%

2020: 64.80%

2019: 60.23%

Jun 07, 2022 10:08 AM IST

Assam HSLC result 2022: Toppers (ranks 9-10)

9. DIVINE A.P SARMA, AKASH DEEP BHUYAN, DHRITISHMAN DUTTA, TABIBUL HAQUE, PARTHA PRATIM BORAH, BIDISHA NATH, SHRISTI NANDA KASHYAP, ARIN BHUYAN, JYOTIRMOY DUTTA, ANASUYA THAKURIA (589)

10. ALMINA KHATUN, ANUBHAB KAPIL, BISWADIP NATH, ANANYA BHARADWAJ, ANIKANKANA GOGOI, AYON MITRA , KOUSTAV JYOTI NATH, UDITI DAS, DIBYAJYOTI LAHKAR, 0 DHRITISHMITA DEKA, HIMANSHU DAS, ROKTUTPAL BORAH, KALLOL BISWAS, SAURAV BARMAN, MAYANK AGARWAL, JURISHMA CHAKRAVARTY, ANURAG BORAH, MD. HAMMADUR RAHMAN (588)

Jun 07, 2022 10:05 AM IST

Assam HSLC result 2022: Toppers (ranks 6-8)

6. BITUPAN MEDHI, MURCHANA BARMAN (592 marks)

7. JYOTIPAL TALUKDAR, SARMISTHA BHAGAWATI, PRIYANUJ BORDOLOI, DIPSIKHA BORUAH, ASHLESHA SARMA, NISHA SARMA (591)

8. HARSHIT BARMAN, OLIVIA BORA, RAJNANDINI BAIDYA , TEJAL AGARWAL, UDESHNA BORDOLOI, NEHA UPADHAYAY (590)

Jun 07, 2022 10:02 AM IST

Assam HSLC result 2022: Toppers list (ranks 1-5)

RAKTOTPAL SAIKIA (597 marks)
BHUYASHI MEDHI (596)
MRIDUPAWAN KALITA,LABEEB MUZIB, PARTHA PRATIM DAS (595)
SWAPNARAJ KALITA, SNEHA SAIKIA , SAMADRITA SARMAH, ANNESHA BORAH (594)
JUBAER HUSSAIN, PRANJIT BARDALAI, SHANAJ ANJUM YASMIN, EQUIT ABBOT DUTTA (593)

Jun 07, 2022 10:01 AM IST

Assam HSLC result 2022: 56.49% students pass SEBA Matric exam

This year, 405582 candidates appeared for HSLC final exam in Assam, of whom 229131 or 56.49% have passed.

Jun 07, 2022 10:00 AM IST

Assam HSLC result 2022: Raktotpal Saikia tops

Raktotpal Saikia of St Mary's High School, North Lakhimpur, who scored 597 marks, has topped the Assam HSLC exam. Bhuyashi Medhi of Little Flowers High School, Nalbari, who scored 596 marks came second. Three students – Mridupawan Kalita, Labeeb Muzib and Partha Pratim Das – are in the third rank. They have scored 595 marks.

Jun 07, 2022 09:56 AM IST

Assam HSLC result 2022 direct link

Click on the link given below to check Assam HSLC result

Jun 07, 2022 09:55 AM IST

Assam HSLC result 2022 declared

SEBA has declared HSLC or Class 10 final exam results on sebaonline.org and resultsassam.nic.in.

Jun 07, 2022 09:49 AM IST

Assam HSLC result 2022: 10 minuts remaining

Assam HSLC result 2022 will be announce shortly. Candidates are advised to keep their roll and numbers ready.

Jun 07, 2022 09:40 AM IST

Assam HSLC Class 10th result 2022: Press conference begins shortly

The press conference for SEBA HSLC or Matric result begins in 20 minutes, at 10 am. Stay tuned for the latest updates.

Jun 07, 2022 09:37 AM IST

resultsassam.nic.in: How to download SEBA Matric marks sheets

To downland SEBA Matric result, go to resultsassam.nic.in and follow these steps:

Click on the link for HSLC result
Enter roll and number and the code shown on screen
Submit these details and check result
Click on the print icon to save the marks sheet

Jun 07, 2022 09:32 AM IST

Assam HSLC result 2022: Only 30 minuts remaining

Around 30 minutes remaining for declaration of Assam SEBA HSLC results. Students are advised to keep their admit cards ready.

Jun 07, 2022 09:29 AM IST

Assam HSLC result 2022: Subject-wise pass marks

Assamese: 30

English: 30(Theory: 27, Internal Assessment/Practical: 3)

Maths: 30 (Theory: 27, Internal Assessment/Practical: 3)

Science: 30 (Theory: 27, Internal Assessment/Practical: 3)

Social Science: 30 (Theory: 27, Internal Assessment/Practical: 3)

Jun 07, 2022 09:26 AM IST

Assam HSLC result 2022: What is mentioned on SEBA Matric marks sheet

The following details are mentioned on SEBA Matric or HSLC marks sheets:

Roll number
Exam name
Centre details
School name
Candidate's name
Parents' names
Subject-wise full marks, pass marks and marks obtained
Total marks, result status and other details

Jun 07, 2022 09:20 AM IST

Assam HSLC result 2022: When can students check results?

Students can check Assam HSLC result after 10 am on sebaonline.org and resultsassam.nic.in.

Jun 07, 2022 09:15 AM IST

Assam HSLC result 2022: Minimum marks required for passing Matric exam

A candidate need at least 30% marks in a subject to pass the Matric exam. For subjects that have both practical or oral and theory parts, they need to score 30% marks in both parts.

Jun 07, 2022 09:09 AM IST

Is Assam HSLC result 2022 declared?

A few minutes ago, the link to check Assam HSLC result was available on resultsassam.nic.in and some candidates got to check their marks. However, as of now, the link is not working.

Jun 07, 2022 09:04 AM IST

Assam HSLC result 2022: Websites to check SEBA Matric scores

Students can check Assam HSLC or Matric results on resultsassam.nic.in or sebaonline.org.

Jun 07, 2022 08:54 AM IST

Assam HSLC 10th result 2022: How to check SEBA Matric scores

Go to resultsassam.nic.in
Enter roll (eg:B22-0025) and number (0001)
Submit and view your result

Jun 07, 2022 08:46 AM IST

Assam SEBA HSLC result 2022: Last 5 year's pass percentage

These are the pass percentages in HSLC examination in the last five years:

2017: 47.94%
2018: 56.04%
2019: 60.23%
2020: 64.80%
2021: 93.10%

Jun 07, 2022 08:41 AM IST

Assam HSLC result 2022: Toppers' list

SEBA will publish the list of top 10 rank holders at 10 am. Over 4 lakh students are waiting for their Class 10 final exam result.

Jun 07, 2022 08:34 AM IST

Assam Class 10 Result 2022: Last year data

A total of 4.26 lakh students had enrolled for Class 10 exams, with 1,97,565 male and 2,28,988 female candidates, and 12,275 candidates for Assam High Madrassa exams, with 4,723 male and 7,552 female candidates.

Jun 07, 2022 08:23 AM IST

SEBA Assam HSLC Result 2022: Passing marks

Students will be required to score at least of 30% marks in a subject to pass in that subject. Along with that, in aggregate students will have to attain 30% marks to pass in SEBA Assam HSLC Result 2022.

Jun 07, 2022 08:14 AM IST

Assam 10th Result 2022: How to check

Visit the official website of resultassam.nic.in.

Click on Assam 10th Result 2022 link available on the home page.

Enter the login details and click on submit.

Your result will be displayed on the screen.

Check the result and download the page.

Keep a hard copy of the same for further need.

Jun 07, 2022 07:57 AM IST

Assam HSLC result 2022: Exam dates

SEBA conducted Assam HSLC exam 2022 from March 15 to March 31, 2022 in offline mode for the first time in two years.

Jun 07, 2022 07:50 AM IST

Assam HSLC result 2022: Official website for SEBA Matric result

There are two official websites to check Assam HS result 2022:

sebaonline.org
resultsassam.nic.in

Jun 07, 2022 07:37 AM IST

Assam HSLC 10th result 2022 date and time

Assam board 10th result 2022 date: June 7

Assam HSLC result 2022 time: 10 am

Jun 07, 2022 07:25 AM IST

Assam HSLC Class 10th result 2022: SEBA to announce Matric toppers' list

Along with HSLC results, Board of Secondary Education Assam (SEBA) will release the list of top 10 rank holders in the Matric examination.

Jun 07, 2022 07:22 AM IST

When is Assam HS result 2022

Usually, Assam Higher Secondary Education Council (AHSEC) announces HS final results within a few days or weeks of Matric result. An official confirmation on the HS result date and time is awaited.

Jun 07, 2022 07:20 AM IST

Assam HSLC 10th result 2022: Physical exam held after a year

SEBA in 2022 conducted offline exam for Class 10 students after a year. Last year, Assam HSLC exam was cancelled by Education Minister Ranoj Pegu in view of the second wave of COVID-19. Students were evaluated using an alternative assessment scheme.

Jun 07, 2022 07:03 AM IST

Assam HSLC result 2022: Press conference time

The official press conference for SEBA Class 10 or Matric result will be held at 10 am and students can check their board exam marks sheets soon after that on sebaonline.org and resultsassam.nic.in.

Jun 07, 2022 06:57 AM IST

Assam HSLC Matric Class 10th result 2022: Number of students

This year, a total of 4,19,887 students appeared for Assam HSLC or Matric final examination. The number of Male students is 1,95,181 and the number of Female students is 2,24,706.

Jun 07, 2022 06:51 AM IST

Assam board HSLC Class 10th result 2022: How to check SEBA Matric result

Go to sebaonline.org or resultsassam.nic.in
On the homepage, find and click on the HSLC or Matric result link
Login with your final exam roll number
Check and download your digital marks sheet.

Jun 07, 2022 06:49 AM IST

Assam board Class 10th result 2022: Websites to check marks sheets

Here is the list of websites to check Assam HSLC result 2022:

sebaonline.org
resultsassam.nic.in
assamonline.in
assamresult.in

and other websites.

Jun 07, 2022 06:35 AM IST

Assam HSLC Class 10th result 2022: SEBA Matric result time

Board of Secondary Education Assam (SEBA) will declare Class 10 or HSLC final examination results at 10 am.

Jun 07, 2022 06:34 AM IST

Assam HSLC result 2022 today

Assam SEBA HSLC or Class 10th final exam result 2022 will be declared on June 7, 2022.

Topics

Story Saved