Aamir Khan's brother Faissal Khan makes comeback with directorial debut Faactory, plays a creepy lover. Watch
Published on Aug 19, 2021 05:29 PM IST
Faissal Khan features in his own directorial debut Faactory and the trailer for the film was launched Thursday. Check it out here.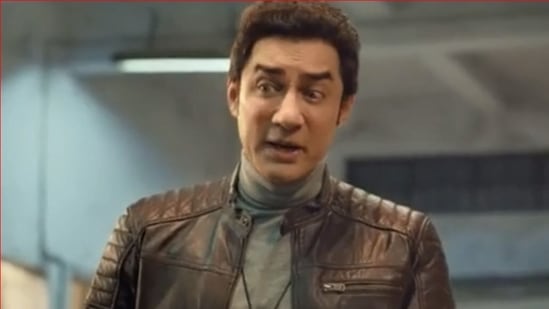 The trailer of Faissal Khan's directorial debut film, Faactory, was released Thursday afternoon. In the film, he features as a creepy lover.
The three-minute-long video opens with Faissal Khan singing Hume Tumse Pyar Kitna, insisting that his love interest should reciprocate his feelings. The woman snubs him off, but soon they sing love songs in the backdrop of beautiful locations. She agrees to marry him so his mother's "soul is at peace".
As the trailer continues, it is revealed that she has promised marriage to another boy as well. The lover, essayed by Roaleey Ryan, attacks Faissal with a knife. Things turn murkier thereafter and Faissal's character reveals his darker side.
Faissal Khan has co-written the story, screenplay and dialogues for the film alongside Amit Gupta and Maryam. The movie features debutant Roaleey Ryan opposite Faissal. Raj Kumar Kanojia, Ribbhu Mehra, Sharad Singh and Asha Singh will also be seen. The film has been shot in Maharashtra and Gujrat.
Faissal had previously assisted Mansoor Khan and his late father Tahir Hussain for films such as Qayamat Se Qayamat Tak, Jo Jeeta Wohi Sikander and Tum Mere Ho. Talking about his directorial debut, Faissal Khan said in a press statement, "I am glad to take this decision after 30 years and will finally live my mother's and my dream. I have been involved with Faactory right from the scripting stage and it has been one amazing journey throughout."
Faactory will release on September 3.
Also read: Mahesh poses with Lara in her Indira Gandhi avatar, Twinkle calls her fabulous
Faissal Khan was last seen in Chinar Dastan e-Ishq (2015). Last year, he talked about Faactory and told a leading daily, "I didn't get any help from Aamir Khan, he has not even heard the script of the film that I am making. And I didn't need any help as such because I've been through the process."