Bholaa teaser: Ajay Devgn wields the mighty trishul, cop Tabu reports for duty, Deepak Dobriyal is unrecognisable
Jan 24, 2023 12:12 PM IST
Actor-director Ajay Devgn has shared a fresh teaser for his upcoming feature Bholaa. The film appears to be loaded on action with its heart in Hindu mythology.
A new, much longer teaser for Bholaa was shared on social media by lead star and director Ajay Devgn on Tuesday. Co-starring Tabu and an unrecognisable Deepak Dobriyal, the film is about a Lord Shiva-devotee's love for his daughter and the villains he fights for her. (Also read: Bholaa teaser: Ajay Devgn is in his deadliest avatar yet in this Kaithi remake. Watch)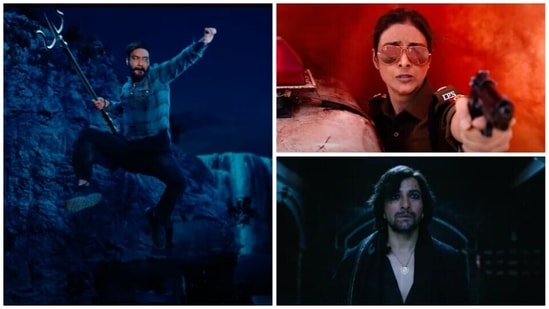 The teaser offers glimpses of high octane stunts on bikes, trucks, boats and other modes of travel. Ajay wields a mighty trishul and attacks his enemies with slick and deadly moves. We met his daughter in the first teaser and saw that he was in a jail. This time, however, he is out and brings some gory mayhem along as well.
The teaser also shows Tabu as a cop, with her arm fractured, being dragged across a dirt road by some thugs. She also aims her gun at the target before being washed in a sea of red. "Log ye kyu bhool jaate hai… is wardi ke peeche bhi ek insaan hai (Why do people forget that I am a human behind this uniform)," she says in a line from the film, heard in the background. Also in the background, plays a mellow rendition of Aaj Phir Jeene Ki Tamanna Hai from the 1965 film Guide.
Deepak Dobriyal looks nothing like you've ever seen him before. With long hair, kohl-rimmed eyes, all-black robes, he will remind you of early 2010's hot vampires straight out of Twilight or Vampire Diaries.
Bholaa is an official Hindi remake of the 2019 Tamil hit Kaithi and Ajay has directed it. It has been styled as the story of a "one-man army, set in one night, fighting a multitude of enemies in various forms, human and otherwise." Also starring Gajraj Rao, Sanjay Mishra, Raai Lakshmi, and Makrand Deshpande in prominent roles, it is all set to hit the theatres on March 30, 2023.
The original film revolved around an ex-convict who decides to meet his daughter for the first time after being released from prison but gets caught in a face-off between police and the drug mafia. Bholaa marks Ajay's fourth directorial film after U, Me Aur Hum in 2008, Shivaay in 2016, and Runway 34 in 2022.