Darlings director Jasmeet K Reen says Alia Bhatt shot crucial scene with Shefali Shah while sick: 'Entire set clapped'
Published on Aug 09, 2022 09:09 PM IST
Darlings director Jasmeet K Reen praised Alia Bhatt as she recalled how she filmed one crucial scene in the film while she was sick.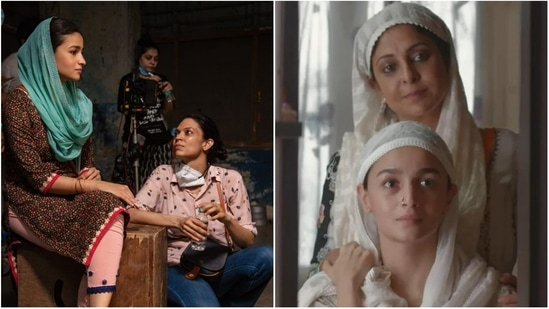 Alia Bhatt has earned rave reviews for her performance as Badrunnisa aka Badru in her latest film Darlings. The film's director Jasmeet K Reen recently recalled how Alia was not feeling well during the filming of one crucial scene in the film but gave a performance that made the entire set stand up and clap. Also Read| Vijay Varma feared hurting Alia Bhatt in Darlings' physical abuse scenes
The dark comedy follows Alia's Badru as she gets revenge on her husband Hamza, played by Vijay Varma, after suffering domestic violence for years. She is supported in this by her mother Shamshunnisa aka Shamshu, played by Shefali Shah, who has been pestering her to leave Hamza for a long time. In one scene of the film, Badru calls her mother to her home, and reveals that she has finally tied up her husband. She says, "Fielding bahut ho gayi hai ammi. Ab batting chaalu (Enough defense mom! Now I will start playing)," before hitting her husband's head with a pan.
Jasmeet, who has made her directorial debut with the Netflix film, recalled the scene, "Alia was ill one day, but she still came for the shoot. I remember meeting her, she looked unwell and that day she had an almost one-page dialogue to deliver. I asked if she'll be ok and she said she would. We rolled the camera and she gave her take like a pro, which I loved, but something beautiful happened that day. The entire set stood and clapped, not because she was unwell, but because they loved what she did. Alia is a positive person, looks at the job at hand, and lives in the moment."
Jasmeet added, "Her commitment is very inspiring and infectious. Our shoots were filled with positive energy, laughter, and a lot of pranks. Lots of birthday celebrations and cake cutting too. This shot however is one of my personal favourites, it is a fun scene but it symbolises how a daughter is becoming like her mother."
Darlings, which also stars Roshan Mathew, Rajesh Sharma, and Kiran Karmakar in key roles, marks Alia's debut as a film producer. It started streaming on Netflix on August 5.
Personalise your news feed. Follow trending topics