Masaba Gupta shares meal with dad Vivian Richards and step-dad Vivek Mehra in unseen pic, poses with mom Neena Gupta
Feb 04, 2023 05:16 PM IST
Actor and designer Masaba Gupta shared a meal with dad Vivian Richards and step-dad Vivek Mehra in an unseen photo. She also posed with her mom Neena Gupta. See post.
Designer-actor Masaba Gupta shared a post in which she worked out and also had meal with her father, West Indies cricket legend Vivian Richards and step-dad, chartered accountant Vivek Mehra. Taking to Instagram, Masaba posted a video in which she worked out in a grey outfit and white sneakers. (Also Read | Masaba Gupta calls father Vivian Richards 'gentle giant', pens note for stepdad)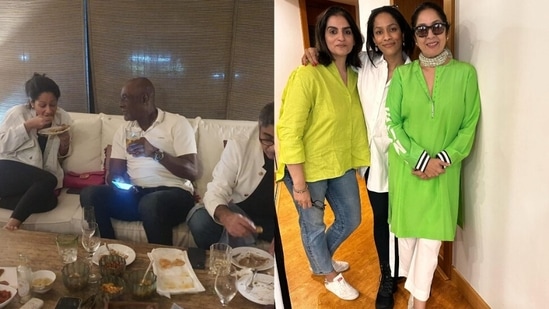 In the next slide, she was seen having food from a plate as Vivian Richards looked at her with a beverage in his hand. Vivek sat next to him enjoying his food. Several glasses and bowls were also seen on a table near them. In the pictures, all of them were dressed in white shirts and black and blue denims.
In the next picture, Masaba posed with her friends as Vivian looked at them from behind. It was from one of Masaba's wedding festivities. She wore a black top and a blue skirt. The next photo showed Masaba laughing as she rested her head on her husband, actor Satyadeep Misra's chest on a bed.
Masaba posed with her mother-actor Neena Gupta and a friend in the last picture. While Masaba wore a white shirt, black tights, and boots, Neena opted for a green kurta, white trousers, and sneakers. She also wore dark sunglasses and tied a scarf around her neck. Masaba captioned the post, "What can I say.. been a busy week/ month/year ?" Karishma Boolani posted several fire emojis.
Recently, Masaba posted a video of her workout regime on her Instagram Stories. She captioned it, "I have 48 hours to whip myself into shape before a shoot. And I will of course do it." Masaba didn't specify details about the shoot.
Masaba made her acting debut with the Netflix original series Masaba Masaba. The show also featured her mother Neena and her then-boyfriend Satyadeep.
Masaba and Satyadeep had an intimate marriage ceremony, attended by their close family members, on January 27. Sharing a post on Instagram she wrote, "For the first time ever - My whole life came together. This is us. My beautiful blended family. Everything from here on is just a bonus."