Shilpa Shetty and Jacqueline Fernandez laugh over controversies: 'Hum apni zindagi jeeyenge'. Watch
Updated on Mar 06, 2022 05:45 PM IST
Shilpa Shetty and Jacqueline Fernandez shared a laugh as the former spoke about controversies. Watch their video here.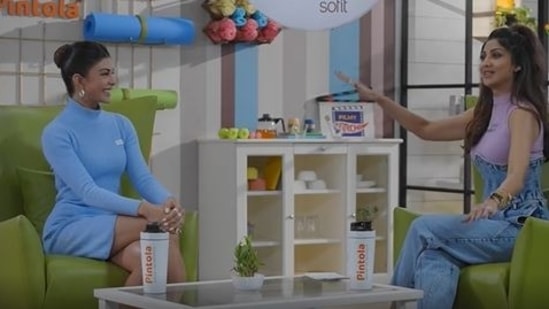 Actors Shilpa Shetty and Jacqueline Fernandez have laughed over controversies on former's upcoming show Shape Of You. In a teaser, shared by Shilpa on Instagram, Jacqueline is one of the guests on the new health and fitness chat show. Several other celebrities including Shamita Shetty, Masaba Gupta, Shehnaaz Gill, Tahira Kashyap, Badshah, and Rakul Preet Singh will appear on the show. They spoke about fitness, mental health, their diets and also played a pronunciation game. (Also Read | John Abraham tells Shilpa Shetty 'men shouldn't look pretty', people ask: 'Why these double standards?')
In a segment on mental health, Jacqueline Fernandez said, "I was possibly going through a bit of loneliness." However, the clip didn't reveal further of the time she was referring to. Earlier in January this year, she had shared a statement on Instagram requesting privacy after a photo of her with conman Sukesh Chandrashekhar emerged online.
As the teaser came to an end, Shilpa and Jacqueline were seen laughing as the host spoke about controversies. She said, "Controversies ho nahi ho, bhaad mein jaaye log, hum apni zindagi jeeyenge. Ek hi zindagi hai (Whether there are controversies or not, let people go to hell, we will lead our lives. We only have one life)."
Last year, both the actors found themselves in the middle of controversies. Shilpa's husband Raj Kundra was arrested on July 19 for allegedly producing porn films and streaming them through an app. 11 other people were also arrested on charges related to the alleged creation of pornographic films. He is currently out on bail.
Shilpa and Raj made their first public appearance after the case during a temple visit in Himachal Pradesh. Since his arrest and subsequent bail, Raj has been inactive on social media platforms. He was seen on a few occasions with his family members.
Meanwhile, Jacqueline, last year was grilled by the Enforcement Directorate multiple times in connection with a money-laundering investigation. The agency suspected she was a "beneficiary" of the proceeds of crime allegedly generated by Sukesh Chandrashekhar after conning and extorting money from some high-profile people, as per news agency PTI.
In January, requesting media privacy over the circulation of her pictures with Sukesh Chandrashekhar she had said, "This country and its people have always given me tremendous love and respect. This includes my friends from the media, from whom I have learned a lot. I'm currently going through a rough patch but I'm sure that my friends and fans will see me through it."
She had added, "It is with this trust that I would request my media friends to not circulate images of a nature that intrude my privacy and personal space. You would not do this to your own loved ones, am sure you would not do this to me either. Hoping that justice and good sense prevails. Thank you."
Personalise your news feed. Follow trending topics