Shreya Dhanwanthary reveals Bhumi Pednekar auditioned her and Vaani Kapoor for Dhoom 3
Shreya Dhanwanthary revealed that she and Vaani Kapoor auditioned together for Dhoom 3. Bhumi Pednekar, who was assisting Yash Raj Films' casting director Shanoo Sharma at the time, was the one who auditioned them.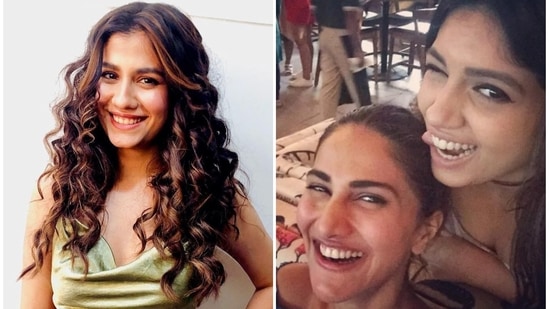 Published on Dec 02, 2021 07:11 AM IST
Shreya Dhanwanthary said that when she was a model in Delhi, she auditioned for Dhoom 3 along with Vaani Kapoor. Bhumi Pednekar, who worked as an assistant to Yash Raj Films' casting director Shanoo Sharma, was the one who auditioned them.
During an appearance on The Love Laugh Live Show, Shreya said that she 'desperately wanted to be in films' when she was modelling but did not know how to go about it. "So, there was an audition that Yash Raj Films was doing. At the time, they were looking for a new girl for Dhoom 3. Bhumi was working with Shanoo and she had come to Delhi to audition potential people who would be a good fit. I was one of the people and she loved my audition," she said.
Bhumi told Shreya that she was 'incredible' and asked her to fly down to Mumbai to meet Shanoo. Shreya found the feedback 'heartening' and encouraging. "So I flew down to Mumbai for the day. I had braces at the time. It was just me and one other girl. Her name was Vaani Kapoor. We were auditioning for Shanoo, and she says, 'Bhumi is right, you are fantastic, but I can't put you on tape with braces. So once they come off and you actually decide to take this seriously, come see me in Mumbai.' Actually, that was the reason why I decided to finally move to Mumbai," she said.
Also read: Shreya Dhanwanthary recalls visiting Mukesh Ambani's home Antilia, reveals surprising detail about air conditioning
Dhoom 3 featured Aamir Khan as the antagonist, with Katrina Kaif paired opposite him. Abhishek Bachchan and Uday Chopra reprised their roles of ACP Jai Dixit and crook-turned-police consultant Ali Akbar Fateh Khan, respectively.
Shreya, meanwhile, made her Bollywood debut in 2019 with Why Cheat India opposite Emraan Hashmi. She is known for playing journalist Sucheta Dalal in Scam 1992: The Harshad Mehta Story.
Close Story
Personalise your news feed. Follow trending topics