Yami Gautam supports The Kashmir Files: 'Being married to a Kashmiri Pandit, I know first hand...'
Mar 14, 2022 06:19 PM IST
The Kashmir Files, directed by Vivek Agnihotri, stars Anupam Kher, Pallavi Joshi, Darshan Kumaar, and others. The film collected ₹27 crores on its opening weekend.
Yami Gautam and her husband Aditya Dhar have come out in support of The Kashmir Files. Yami and Aditya took to their Twitter accounts on Monday to share their experience of watching the film, which presents the story of the Kashmiri Pandits' killings and exodus from the Kashmir Valley in the early 90s. Aditya called the audience's reaction to the film "very real," while Yami said that the film has brought out the "truth." Also Read| The Kashmir Files: IMDb notices 'unusual voting activity' on film's rating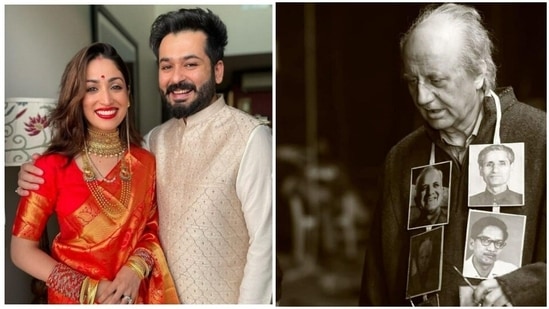 Yami reposted her husband's tweet about The Kashmir Files onTwitte, along with a message where she said her marriage to Aditya Dhar, a Kashmiri Pandit, has made her more aware of their exodus from the valley. The actor wrote, "Being married to a Kashmiri Pandit, I know first hand of the atrocities that this peace-loving community has gone through."
"But majority of the nation is still unaware. It took us 32 years and a film to get to know the truth," Yami added. She ended her message by urging the public to watch and support The Kashmir Files, and added a hands-folded emoji in the tweet.
Aditya, in his tweet, had talked about the videos of people getting emotional after watching the Anupam Kher-starrer movie. The Uri director wrote, "You might have seen numerous videos of Kashmiri Pandits breaking down in the theatres after watching #TheKashmirFiles. The emotion is real."
Aditya added, "It shows how long we kept our pain and tragedy repressed as a community. We didn't have any shoulder to cry on and no ear to hear our pleas."
Aditya added a series of tweets in the thread, and called the film a "brave attempt" to show the truth of Kashmiri pandits. He also praised the work Anupam Kher and director Vivek Agnihotri have done on the movie.
"Being a filmmaker myself I couldn't have made a better film than this on my own tragedy. Hats off to @vivekagnihotri & @AnupamPKher Ji. Please watch the tragic TRUE story of one of the most patriotic and loyal communities of India," he wrote.
The Kashmir Files also stars Pallavi Joshi, Darshan Kumaar, and others. The film collected ₹27 crores on its opening weekend.