Jason Momoa involved in a head-on collision with motorcycle, escapes unhurt
Published on Jul 25, 2022 07:20 PM IST
Aquaman and Game of Thrones actor Jason Momoa was involved in an accident where his car collided with a motorcycle in California on Sunday. No injuries were reported.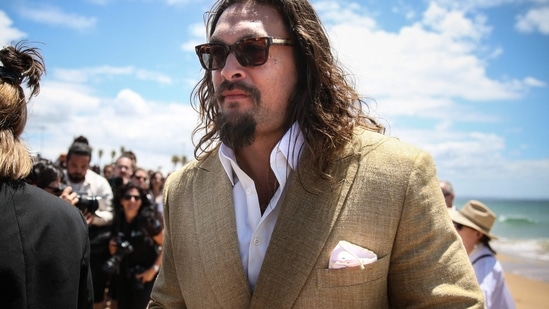 Jason Momoa, best known for his starring roles in Aquaman and Game of Thrones, has been involved in a head-on collision between his car and a motorcycle in California, as per reports. In videos from the accident site, the popular actor can be seen walking back towards his car in the aftermath of the incident. Reports say that nobody was hurt and there are no charges being filed either. Also read: Arnold Schwarzenegger involved in 'bad' car accident
Reports say that the accident took place on Sunday when the actor was in his car near the Calabasas area in California. As per a report in TMZ, his car came in contact with a motorcycle coming from the opposite side while both vehicles were navigating a bend in the road. Jason was reportedly driving the car.
A video accessed by TMZ shows Jason walking back to his car as paramedics can be seen tending to the injured biker behind him. The report further states that despite the head-on collision, nobody was seriously hurt and no charges are being filed as both parties believe the accident was no one's fault. The report mentioned that the motorcycle rider was taken to the hospital "with minor injuries-- including bruising to their leg and an injury to their thumb".
Jason was last seen in a supporting role in the sci-fi epic Dune, which released last year. He will be next seen on screen in Slumberland, a live-action adaptation of the comic book series Little Nemo in Slumberland. 2023 will see Jason in two major movie franchises. He will first reprise his role as Aquaman aka Arthur Curry in the DCEU film Aquaman and the Lost Kingdom. A few months later, he will play the villain in Fast X, the latest instalment of the Fast and the Furious franchise, where he will lock horns with Vin Diesel.
Personalise your news feed. Follow trending topics