Watch Priyanka Chopra, Yahya Abdul-Mateen II lose it as a cat interrupts their Matrix Resurrections interview
The Matrix Resurrections actors Priyanka Chopra, Yahya Abdul-Mateen II and Jessica Henwick were interrupted by a cat during an interview.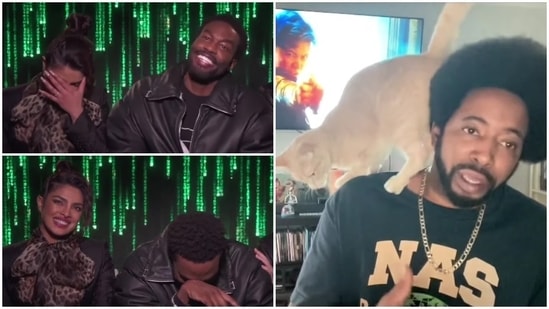 Published on Dec 18, 2021 01:06 PM IST
On Friday actors Priyanka Chopra, Yahya Abdul-Mateen II and Jessica Henwick came together to talk about the film The Matrix Resurrections with journalist Jamaal Finkley. But Jamaal's video was interrupted by a very special guest, his cat.
The video starts with Jamaal asking the trio, "How are you guys doing?" Yahya replies, "Not as good as you bro." In the video, Jamaal's cat was seen sitting on his shoulder and then moving from one shoulder to another, and then on his lap, during the interview.
At one point, Jamaal asked Priyanka, "Priyanka like now we have had the Golden Globe nominations, Critics Choice nominations and it seems like for another year that we won't have a Best Actress that is not white. I know you have done a lot of great pictures but if you look at the fact how Halle Bailey has been the only non-white actress in the 82 years history of Oscars to get an award. How do we get to the point where we recognize actresses of Asian descent." Yahya bursts into laughter in between after seeing Jamaal struggling with his cat.
After Yahya starts laughing, Jamaal says, "I am sorry this cat is doing everything." Priyanka and Jessica also start laughing. Priyanka then says, "I am, sorry, you are asking such a serious question like that." Jessica then says: "The cat needs to go somewhere, dude. She wants something."
Jamaal then says, "She isn't like this. She hides for the rest of the day and then I come for this and.." Jessica then interrupts her and says, "She needs something right now. She got places to go." Yahya and Jessica then admit that they were trying not to laugh at the cat for long.
Jamaal then held his cat and put it away. Jessica asked him to keep it there as it might have some serious questions to ask. Many people reacted to the video. One person said, "Love the new cast." While another one wrote, "The cat did it for me! Lmao!"
Read More: The Matrix Resurrections first reactions: Critics go from calling Keanu Reeves' film 'best movie' to 'exposition dump'
The Matrix Resurrections is the fourth film from the Matrix franchise. The film brings back Keanu Reeves as Neo, 18 years after he played the role in The Matrix Reloaded and The Matrix Revolutions, both released in 2003. The film will release on December 22 in theatres and on HBO max.
Close Story
Personalise your news feed. Follow trending topics