Song Joong Ki to hold wedding ceremony in March? Agency reacts to reports
Jan 31, 2023 02:43 PM IST
Song Joong Ki's agency commented on reports of the actor's wedding in March. He recently married his girlfriend, Katy Louise Saunders who is expecting their first child together.
Descendants Of The Sun actor Song Joong Ki's agency finally opened up about his wedding ceremony rumours after he registered marriage with his girlfriend Katy Louise Saunders. Currently, UK-based Katy is pregnant with their first child. Amid this, reports from Korean news outlets suggested that Song Joong Ki's formal wedding bash might take place in March this year. Also read: Song Joong Ki marries Katy Louise Saunders; couple expecting first child together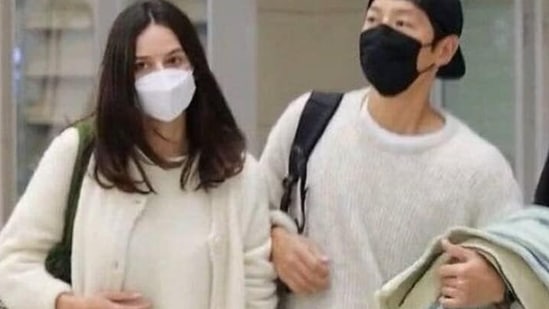 Responding to it, the k-drama actor's agency HighZum Studio said in an official statement on Tuesday, "The wedding is being planned, but it won't be in March. Nothing has been decided as of right now." Meanwhile, several rumours regarding the actor's wife's due date also surfaced online.
"In regards to the birth of the baby, it is difficult to provide any confirmation as it is a private matter," the agency had only this much to comment about the baby's arrival. Besides this, news portal Dispatch also reported that Song Joong Ki and Katy have been living together in their Hannam apartment in Seoul since last spring. It further claimed that the actor got his in-laws invited to South Korea after Katy's pregnancy and have been living in a house together. In response to it, the agency said it is difficult to confirm the report, citing it as a private matter of the actor.
On Monday, the Vincenzo star took his fans by surprise as he announced his wedding in a letter. He also revealed that the couple is expecting their first child together. Confirming the identity of his girlfriend, Song Joong Ki wrote, "Hello. This is Joong Ki. Today, I am greeting you because I want to share a promise that is more happy and valuable to me than anything. I have promised to continue life together with Katy Louise Saunders, who has been by my side supporting me and who I have spent valuable time with while cherishing each other."
"She has a kind heart, and she has lived her life passionately. She is a sensible and amazing person to the point that I revere her. Thanks to her, I am becoming a better person. We naturally dreamed of creating a happy family together. We have put in much effort to keep each other's promises, and we are sincerely thankful as a new life has come to us. And today, based on our deep trust and love for each other, we are on our way back from registering our marriage to begin life as a married couple. As we are now, the two of us will walk our days ahead beautifully while facing the same direction. I sincerely thank all the fans who always cherish me no matter what," he added.
Song Joong Ki confirmed his relationship in December last year. He was previously married to his Descendants Of The Sun co-star, Song Hye Kyo.