Sooraj Barjatya with guns, Succession with swag: Vijay's Varisu is fan service of the best kind
Jan 14, 2023 12:41 PM IST
Even if Varisu doesn't go down as one of his most memorable films, when it comes down to knowing how to give the people what they want, Vijay remains the Master.
Spoilers ahead for Varisu..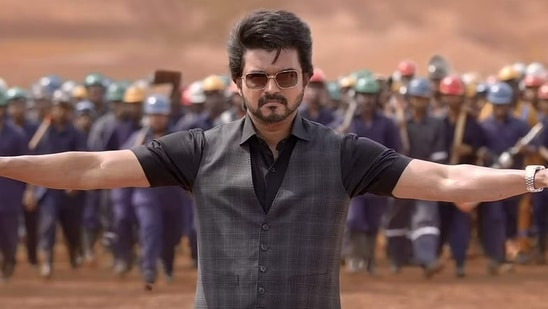 Tamil cinema superstar Vijay's latest film Varisu lies somewhere between Sooraj Barjatya with guns and Succession with swag. Dipping into every masala trope in the book, the plot plays safe, offering old wine in a new bottle. Thalapathy Vijay plays… Vijay, a man from a wealthy business empire family who breaks away from his egoistic, controlling, Logan Roy-esque father (a solid Sarathkumar). Vijay refuses to become another lapdog made to jump through hoops, like his two older brothers Jay and Ajay (a serviceable Shaam and Srikanth Meka), in the hopes of being chosen as the heir to the family empire. Instead, he walks away from his family and sets off to make it on his own. Also read: Ajith's Thunivu earns ₹23 crore on day 1, beats Vijay's Varisu that made ₹19.5 cr in Tamil Nadu
Cut to seven years later. Vijay (now the founder of a successful start-up) is convinced by his adoring mother (an impressive Jayasudha, the film's emotional core who's instrumental in selling the sentiment) to come back home for his father's 60th birthday celebrations. And, of course, he returns to a fraught, fractured family that's desperately in need of a savior. Controlling father and overlooked mother aside, there are also his two warring brothers, one of whom is even having an affair as the textbook absent father and selfish philandering husband.
A delicate balancing act of swag, sentiment, humour and heart, Varisu's narrative takes place on three fronts: the fix-the-broken-family drama, the twisty, thrilling business story and the larger-than-life celebration-of-superstardom action movie. And, for the most part, writer-director Vamshi Paidipally capably delivers on all three fronts (till the expectedly tiring final stretch of the film that is, but more on that later). That I believe he emerged victorious from this Pongal's clash of the titans at the movies against Ajith's empty blur-of-gunfire action vehicle Thunivu goes without saying.
Personally, I'm quite tired of our Indian cinema's love of the Barjatya-esque joint-family-porn narrative (which dominates most of this film's first half). But in Varisu it works well because of the playful humour and Vijay's irreverence. Both character and star don't take themselves, or their surroundings, too seriously, thus allowing us to do the same. But, for me, where Varisu really comes alive as a fun time at the movies is in how it gives the corporate story the mass movie treatment. Boardrooms, under-the-table deals and government contract bids all become arenas for bodacious backstabbing, slimy sabotaging and general cutthroat-ness. Throw in the always impressive Prakash Raj who proves to be a fitting villain as the jealous business rival to Vijay's father.
It's why business-focused portions of the narrative account for the film's most fun moments. After finding out that he has cancer, Vijay's dad gets back in touch with his softer, more forgiving side. That, coupled with him realising that his two older sons are screw-ups, in a big Baghban moment, he asks his estranged son Vijay to take the reigns of the familial empire. This perfectly sets the scene for that rip-roaring interval moment where a now-suited-up Vijay marches into his new office and claims his seat (as I was jumping in mine) as Chairman of the company. Or then the post-interval scene where he goes to inspect the company's shipyard and he's attacked by its workers under the orders of his older brother. Of course, he beats them to a pulp one at a time as my brain screamed "this is how All business meetings should take place!" Or then the hilarious conference room sequence where, under the command of his brothers, the board attempts to vote him out as Chairman. But he wins them over and swings their votes by playfully blackmailing them one at a time.
But perhaps what I enjoyed most about Varisu was its self-awareness. A masala movie that knows it's a masala movie mounted on Thalapathy Vijay playing a hero who knows he's the hero. Despite being the saviour of all, the film's Vijay doesn't fit the boring-righteous-sincere-good-guy archetype. Instead, he behaves like he's in on the narrative - arrogant, cheeky and believing he's better than everyone around him. It's what makes him such a joy to watch.
When Vijay takes the throne in that pre-interval moment - there isn't an ounce of humility in him. Despite his intentions being pure, Vijay takes to that seat as if he deserved it all along. My favourite wink moment is perhaps the Government contract scene featuring S J Surya, where, having won the day yet again, in the face of his gobsmacked brothers and Prakash Raj, Vijay says "cue BGM" and walks away in style. Pure mass. Similarly, I loved when the film broke away from the shackles of heavy-handed emotion and actually made fun of it. When Vijay first returns to his home in the film's opening few minutes, he makes an impassioned speech to his slimy brother about how much he missed him. Just as he begins to win his brother over, Vijay breaks into laughter explaining he was just acting dramatic for the hell of it. A masala movie making fun of its own melodramatic tropes? Sign me up.
But, above all else, Varisu is fan service first and storytelling second. A celebration of a star and his stardom. So, we get continual winks and references to moments and lines from his previous films like Bigil to Master and beyond. Not to mention that full-bodied, buzzing soundtrack and the grandly staged choreography to match, that's instrumental to the joy of this film and also a further testament to Vijay's stardom.
But there are drawbacks of a film made in service of its superstar. For one, you rarely feel any sense of stakes. Not once in this film is Vijay ever on the backfoot. He's never losing or brought to his knees. Forever the solution, forever the saviour. There's also the movie's tiring final leg where the blockbuster buzz noticeably dips (at the point Vijay finds his father passed out on the bathroom floor, for example, I distinctly heard 4 synchronized yawns in my row alone). From thereon the sentiment overpowers the other elements, and the delicate balance tips over. It gets shrill and preachy. In the name of the shrill, preachy moral messaging, the self-aware masala blockbuster submits to taking itself too seriously. That the always charming Rashmika Mandanna is here reduced to overdone eye-candy Barbie is also to be expected I guess. Instead, the best on-screen chemistry goes to VIjay and Yogi Babu, here at his wry, hilarious best.
But where I struggled with Varisu most was in its stance on family politics and the false hope it awards us, before snatching it right away. What begins as an oddly progressive mass movie is eventually forced to undo its own encouraging stances and fall in line. Vijay's father is initially shown to be manipulative and selfish toward his family. But cancer allows him to have his own redemption arc. And I was willing to buy into that. What I couldn't buy, however, was the shaky redemption arc it offers Vijay's adulterous brother Jay. When his daughter is kidnapped, Jay is given a wake-up call to become a better parent. But it's the divorce narrative, in particular, where the movie enters uncomfortable territory.
Jay's wife wants to leave her objectively terrible husband and early on Vijay sides with her and supports her decision. But post-interval, once he's back in the family fold, at the request of his mother (who seems more interested in keeping the family together rather than keeping them happy), Vijay switches tracks and essentially emotionally blackmails Jay's wife to return to him. The liberal open minded outsider returns to his conservative beginnings. A strong case could be made for how he eventually becomes the very thing he hated and tried to get away from at the start. Shaky messaging aside, at a time when numerous Bollywood superstars find their stardom at odds with their choice of film, Varisu shines because Vijay's stardom is the film.
In the grand scheme of things, I'm not sure whether Varisu will do much for Vijay's filmography. But it certainly says a lot about what he can do for a film that's mounted around him. Even if it doesn't go down as one of his most memorable films, when it comes down to knowing how to give the people what they want, Vijay remains the Master.
ott:10