Thunivu movie review: Ajith Kumar is full of swag in fun heist film that doesn't take itself too seriously
Jan 11, 2023 08:51 AM IST
Thunivu movie review: Ajith Kumar stars in one of his most entertaining performances since Mankatha (2011). The Tamil film also stars Manju Warrier and John Kokken.
H Vinoth's Thunivu, his third consecutive film with Ajith Kumar, is a modern-day companion piece to Shankar's 1993 film Gentleman. Thunivu, unlike Gentleman, doesn't take itself too seriously and thankfully that's what makes it a largely entertaining film, which after a long time allows Ajith to have so much fun with a character. In spite of some rough edges, especially how the film does lose its purpose in the second half, Thunivu holds good for most part because of Ajith's wild performance of a character that's both a hero and villain. Also read: Manju Warrier reacts to 'fun trolls' worried about 'not hearing her voice' in Thunivu song Kasethan Kadavulada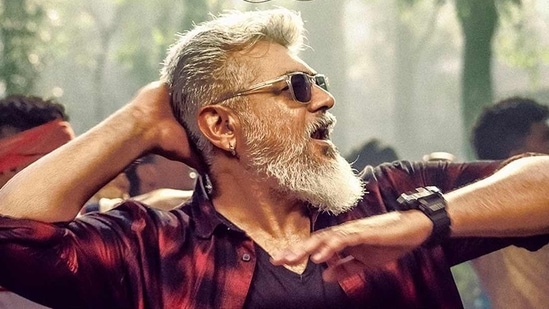 The film opens with a gang making an elaborate plan to rob one of the biggest banks in Chennai. The plan is to execute a heist worth ₹500 crore, which the bank has stashed beyond the permissible limit of ₹1000 crore. Everything goes as planned and the gang succeeds in taking control of the bank along with a large group of hostages. However, trouble comes in the form of one guy who decides to fight back, only to take control of the bank from the gang. That guy turns out to be Ajith, who plays a nameless character. Ajith earns the trust of the gang and makes them work for him. He promises each one of them a cut from the ₹5000 crore bank money he plans to rob. As Ajith puts his plan in motion, his two-member team which also comprises of Manju Warrier, is quietly pulling strings on the outside. The rest of the story is about what is Ajith actually doing inside the bank and does he really plan to rob it.
As long as Thunivu plays out like a heist film, it's super entertaining and a lot of credit for that goes to Ajith, who makes his anti-hero character so charismatic with his screen presence. But the film isn't just a heist film as it also features a subplot that serves as a social commentary on a pressing issue. As much as it tries to shine the spotlight on the issue, it also raises pertinent questions about the negligence of the general public. Luckily, it doesn't get too preachy with the message it wants to convey. Apart from the detour it takes in the second half to drive home its point, Thunivu stays true to its genre of heist action. It has some cool, slightly over-the-top action stretches that work to a large extent. But it's the character of Ajith, who oozes swag from the word go, which makes this one of his most entertaining performances since Mankatha (2011).
With each collaboration, H Vinoth has managed to bring out something refreshing with respect to Ajith's performance. In Thunivu, he doesn't have any qualms in making Ajith play a mastermind criminal with no ethics. Manju Warrier, too, gets a role that she has so much fun with. The film does fumble towards the end, when the action feels underwhelming but the film has enough moments to keep one invested. Ghibran's background score suits the mood of the film really well and so were his songs.
Film: Thunivu
Director: H Vinoth
Cast: Ajith Kumar, Manju Warrier and John Kokken
ott:10