Aamir Ali responds to not being allowed to meet daughter, says he was 'shook' after marriage with Sanjeeda Shaikh ended
Published on Aug 26, 2022 01:18 PM IST
Aamir Ali has spoken about his ex-wife Sanjeeda Shaikh and their daughter Ayra. Sanjeeda and Aamir ended their nine-years marriage in 2021.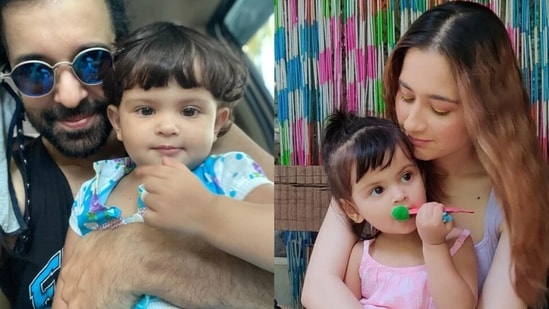 Actor Aamir Ali has opened up on how he was 'shook' when his marriage with actor Sanjeeda Shaikh ended after nine years. In a recent interview, Aamir reacted to reports of him not being allowed to meet their daughter Ayra. He also added that he is not in contact with his ex-wife Sanjeeda. (Also Read | Aamir Ali and Sanjeeda Shaikh divorced after nine years of marriage)
Aamir also said that a person 'shouldn't be averse to love because of one bad experience'. He said that no matter how 'strong a relationship may seem, sometimes it's not meant to last'. Wishing that Sanjeeda 'finds someone who keeps her happy', he added people should be together 'just for love'. He said that if two people come together for any other reason then problems arise.
In an interview with Times of India, Aamir said, "It was extremely difficult at that point. After my marriage fell apart, main hil chuka tha (I was shook). But I am a sportsman by nature, and I never give up. I have always been a happy soul, and I am glad that I am back to being that. I don't harbour ill feelings for anyone and I wish the best for my ex. Sab khush raho life mein (Everyone should be happy in life). Everything happens for a reason and everyone ought to be happy."
Speaking about not being allowed to meet daughter Ayra, Aamir said, "It's a sensitive topic and I don't wish to talk about it. I don't want to play any cards, but unfortunately, a man is always blamed. I have always maintained a dignified silence on matters related to my personal life. Someone I have spent so many years with deserves respect. So, I won't say anything. I just wish them all the best. I am sure Ayra is being taken care of in the best way possible and I only have immense love for her." The custody of their two-year-old daughter is with Sanjeeda.
Aamir and Sanjeeda married in 2012, after years of courtship. In 2020, reports emerged about their marriage hitting a rough patch; the couple divorced in 2021. A Hindustan Times source had said earlier this year, "It has been around nine months since the divorce papers came through. They have moved on in their respective lives. Both of them are extremely private, and thus didn't wish to give out any official statement about the divorce."
Personalise your news feed. Follow trending topics