Namita Thapar walks out, tells Anupam Mittal to keep his 'ego in check' in new Shark Tank India promo
Jan 11, 2023 09:20 PM IST
Namita Thapar walked away from her seat in a new promo for Shark Tank India. Here's what happened that made her angry.
On an upcoming episode of Shark Tank India, the sharks will all clash over a single pitch. With everyone looking to take a bite out of home furnishing brand Nestroots, Vineeta Singh, Anupam Mittal, Peyush Bansal, Aman Gupta and Namita Thapar, get into a big argument.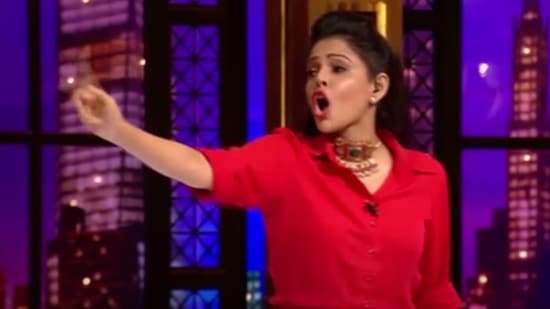 A new promo shared on the YouTube page of Sony Entertainment Television shows how everyone was at loggerheads to invest in the same brand. A woman, who represented her brand Nestroots on the show, said, "Nestroots is a brand which is Indian in origin. We give kitchen, dining, decor, furnishing solutions. We are proud to say that Nestroots is already in more than 1 lakh Indian homes." Vineeta called it so cool while Peyush asked if the brand was profitable yet. The entrepreneur said her nett profitability is between 16-19%, which impressed all the sharks.
First ones to give her an offer were Vineeta and Anupam: ₹65 lakh for 4% equity. Aman was miffed that Vineeta never wants to team up with him. "Kabhi toh kisi aur ko leliya karo yaar (Ask someone else too sometimes)," he said. Then Anupam said to Aman, "Tum value nahi add karte ho yaar sirf herogiri karte ho (you only act smart, add no value)." Aman responds, "Hero will stay a hero and villain will stay a villain."
Aman offers ₹65 lakh for 5% and lets Vineeta choose if she wants to join him. Peyush changes the game when he offers ₹65 lakh for just 1%. As Namita Thapar starts speaking, saying that she disagrees with it, Anupam says, "It doesn't matter what you think yaar."
Namita, furious at his words, says, "Not okay, you need to keep your ego in check." She also walks away from her chair.
Shark Tank is based on the popular concept of the show of the same name - Shark Tank USA. It launched its first season in December last year.
Apart from Namita, Vineeta, Peyush, Aman, and Anupam, there is a new shark on the panel, Amit Jain of CarDekho.