Step inside Ashneer Grover's lavish home in Delhi: Private lift, gold-plated coasters, dining table worth '
₹

10 crore'

Jan 23, 2023 08:55 PM IST
Ashneer Grover took fans inside his house during a recent interview. From his collection of swanky rides to gold-plated coasters, in-house bar, and more, here's everything you will find at his lavish home in Delhi.
Former Shark Tank India judge and Bharat Pe co-founder Ashneer Grover, gave a tour of his lavish house in New Delhi. He was joined by his wife Madhuri Jain Grover for the tour and revealed how they finalised their house after visiting 'almost every house in South Delhi'. In a recent interview, Ashneer revealed it was he and his wife who designed the interior of their apartment. Also read: Ashneer Grover reveals how carefully Salman Khan preserves his image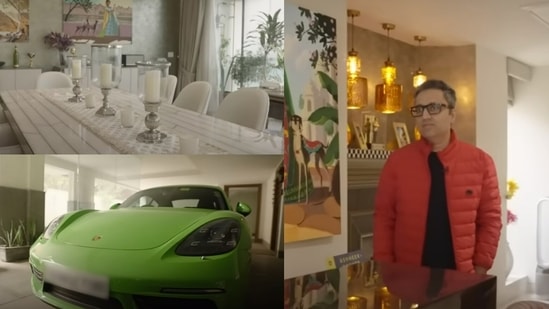 During an interview with Brut India, Ashneer took the host around his house which has a personal elevator inside their apartment. Madhuri showed her aesthetically pleasing 'favourite spot' of the house, a living area with ivory couches and a tea table with gold-plated coasters. The entrepreneur then proceeded to reveal a figurine of himself, gifted by the team of Shark Tank India after season one. Madhuri added, "I used to like him as a shark. But of course, this version is better."
Ashneer has an in-house bar adjacent to the living area, with over 100-150 bottles of alcohol, he said. He added that the bar is meant for his father mostly. He then moved to his infamous ivory-coloured dining table, which was rumoured to be worth Rs10 crore. He jokingly said, "This table is the most infamous table. It's supposedly worth ₹10 crore, which is news to me. I thought my house was worth ₹10 crore but then the table is worth ₹10 crore." He also revealed how he had to install a pulley in the house to get the huge table inside.
Meanwhile, their house also comes with a huge corridor, measuring about 50 meters where Ashneer used to run during his session with a personal trainer. The hallway connects the rest of the house to the rooms of their kids, Avy and Mannat. The video also gave a glimpse of their modern cream-coloured kitchen. The refrigerator of his house was adorned with several magnets, collected during the couple's visit to different countries.
Ashneer and Madhuri's bedroom, done in a soft shade of grey, comes with a big French window allowing ample light. Besides their king-sized bed, there are bedside tables filled with 'healthy snacks', which were earlier filled with chips, said Madhuri. Ashneer who loves midnight munching revealed that he left sugar, which helped him shed kilos.
Besides this, Ashneer also gave viewers a rare glimpse of his personal garage with his collection of cars, including Madhuri's favourite Maybach and Ashneer's popular green Porsche.
After the popularity of Shark Tank India Season 1, Ashneer didn't return for the ongoing season. He recently released a book called Doglapan.