The Kardashians trailer: Kim Kardashian and her sisters are back, Kanye West, Pete Davidson, baby Baker make highlights
Updated on Mar 14, 2022 10:49 PM IST
The first trailer for Hulu series The Kardashians is out. It shows the Kardashian sisters and how their lives have changed in the last few months.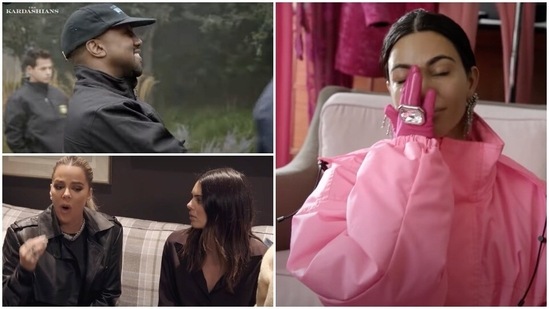 The first trailer for Hulu's The Kardashians is out. Filmed much in the style of superhit, star-making reality show Keeping Up With The Kardashians, the new show will follow the lives of the five famous sisters--Kim Kardashian, Kourtney Kardashian, Khloe Kardashian, Kendall Jenner and Kylie Jenner. Their mother Kris Jenner will also be seen, along with Scott Disick and even Kanye West. (Also read: Kim Kardashian has 'moved on' from ex-husband Kanye West: 'She's grown a lot since split')
The trailer opens with panoramic views of (one of) the Kardashian house. Kourtney is in the garden with her fiancé Travis Baker and her kids—Penelope and Mason. She reveals that she is planning for a baby with Travis and clips in the trailer show her at a clinic with Travis holding her hand. Kim is doling out advice for herself as the new show begins—'just be yourself'. However, Scott is ready as ever to puncture that idea with his usual sarcasm.
Kylie talks about her second, 'really public' pregnancy, a scene shows her and Kendall in their car, being 'chased'. Khloe is still struggling to come to terms with Tristan Thompson's serial infidelity. She defines them as 'complicated'. And finally, the elephant in the room is addressed—Kim's new relationship with Pete Davidson and divorce from Kanye West. A scene shows her texting Pete while recording an interview and another shows Kanye arriving at her door, perhaps unannounced. Kim says that Kanye told her her career is 'over'. Khloe seems fed up of people who 'traumatise us'. Tempo rises as Kendall storms away from a dining table and Kim threatens to burn someone to the ground.
Fans are excited for the show. "I'm so happy to see Scott in the show. To me he was the star of the early seasons. I hope he's doing okay with Kourt's relationship," wrote one. "You can imagine Kanye watching this going, "DAVIDSOOOOOOOOOON!!!!!!!," joked another. Someone did point out how "This is literally the exact same show all over again."
The Kardashians begins streaming from April 14.
Close Story
Personalise your news feed. Follow trending topics