283 Asiatic lions died in two years: Gujarat minister
Updated on Mar 15, 2022 12:16 PM IST
Forest and environment minister Kiritsinh Rana said 159 deaths were reported in 2020 and 124 in 2021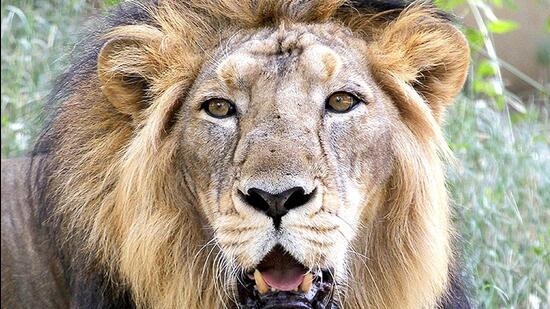 Gandhinagar: As many as 283 Asiatic lions have died over the last two years, the Gujarat government has told the state assembly. In response to questions in the House on Monday, forest and environment minister Kiritsinh Rana said 159 deaths were reported in 2020 and 124 in 2021.
Rana said the 283 included 68 lions, 73 lionesses, and 142 cubs. He added 29 of them died of unnatural causes, such as falling in open wells or getting hit by vehicles or trains. Rana said there were no deaths due to poaching. He added conservation and protection measures such as starting a lion ambulance and appointing vets have been undertaken.
Gujarat's Gir National Park is the only home for lions in the wild in India.
Former principal chief conservator of forest A K Sharma said the death figures seem to be very high and added it should be a cause of concern. "...the authorities should look into the cause of so many deaths."
Mitiyala Wildlife Sanctuary Advisory Committee member Chaitanya Joshi said the mortality rate used to be under 15% and this has shot up alarmingly in the last three or four years.
The yearly death rate among tigers in India is less than 5%. "But such comparison is not quite appropriate," said National Board for Wildlife member H S Singh. He added there is a lot of underreporting in the case of tigers. "Also, tigers are secretive as compared to lions that move in a pride, making them easier to monitor. The latest lion mortality figures in Gujarat should not be a cause of worry as half of the deaths are among cubs. The mortality rate among cubs is very high; about 50-60%."
In 2019, 154 lions died in Gujarat, as per data tabled in the assembly in 2021. "In 2017 and 2018, 184 lions died in Gujarat. The highest number of yearly deaths recorded before this was in 2017 when 98 lions died," said an official, requesting anonymity.
A central team visited Gir in July 2020 to ascertain the cause of mortality among lions between January and May that year. According to a Union forest ministry report, 85 lions died in the landscape till May 31, 2020.
As per the 2015 census, there were 523 lions while their number in 2020 rose by 29% to 674.
Meena Venkatraman, a Mumbai-based lion expert, said more than the numbers, it must be found what exactly caused the deaths.
Personalise your news feed. Follow trending topics