30 children die at Gorakhpur hospital, India deploys more troops along China border: Top stories to bring you up to date
Published on Aug 12, 2017 07:24 AM IST
30 children die in 48 hours as oxygen supply at Gorakhpur hospital disrupted, India pours in more troops along border with China in Sikkim and Arunachal Pradesh, Pahlaj Nihalani's run in CBFC ends as Prasoon Joshi appointed as new chief, India's economy may not achieve the upper end of its projected growth of 6.75% to 7.5% this fiscal year: Here's a list of top stories to bring you up to date.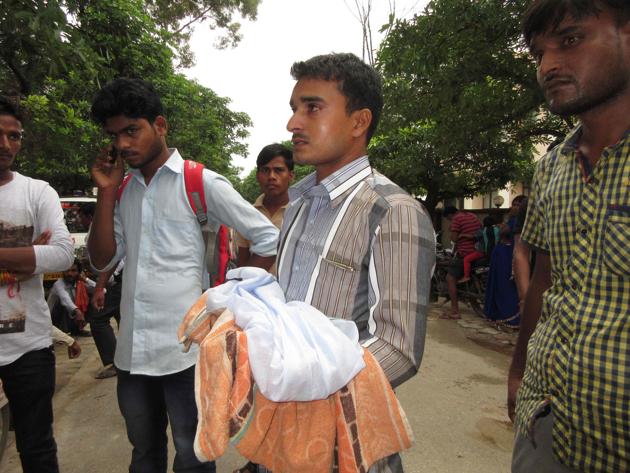 UP: 30 children die in 48 hours as oxygen supply at Gorakhpur hospital 'disrupted'
At least 30 children died since Thursday in Gorakhpur's Baba Raghav Das Medical College amid allegations that a private contractor stopped supplying oxygen cylinders as the government-run hospital hasn't paid dues of about Rs 70 lakh. The Uttar Pradesh government denied the charge, saying alternative arrangements for oxygen supply were made and the patients died of "various medical reasons and illnesses". But according to news agency PTI, a Union home ministry statement that quoted the Gorakhpur police superintendent said 21 children died because of shortage of oxygen. Read the story here.
Gorakhpur tragedy: Child after child collapsed as doctors tried to get oxygen supply back on
Even as 90 jumbo oxygen cylinders were pressed into service to maintain the supply on Friday, the hospital ran out of oxygen around 1 am. As all hell broke loose at the hospital, as many as 50 more oxygen cylinders were brought in around 3.30 am, which also ran dry by 7.30 am. Of the 73 patients in the 100-bed encephalitis ward, 54 were on ventilator when the oxygen supply was disrupted at 7.30 am. What followed was complete chaos as panic-stricken relatives of patients ran for help, and with the support of hospital staff tried to maintain supply of oxygen through artificial respiration using AMBU (artificial manual breathing unit) bags. Read the story here.
India deploys more troops along China border in Sikkim, Arunachal, 'caution level' raised
In a strategically key move, India has poured in more troops along the entire stretch of its border with China in Sikkim and Arunachal Pradesh, senior government officials said on Friday. The "caution level" among the troops has also been raised, the officials told PTI. The decision to increase the deployment along the nearly 1,400-km Sino-India border from Sikkim to Arunachal Pradesh was taken after carrying out a detailed analysis of the situation and considering China's aggressive posturing against India on Doklam. According to defence experts, roughly 45,000 troops including personnel having completed the weather acclimatisation process are normally kept ready along the border at any given time, but not all are necessarily deployed. Read the story here.
Pahlaj Nihalani removed as CBFC chief, Prasoon Joshi to replace him
The information and broadcasting ministry on Friday announced the removal of Pahlaj Nihalani as the chairperson of the Central Board of Film Certification (CBFC), replacing him with noted adman and lyricist Prasoon Joshi. Nihalani whose term was to end in January next year courted controversies after assuming office for trying to censor films and refuse certification. Speculation of his preterm removal gained traction after he stalled Madhur Bhandarkar's Indu Sarkar, a film based on Emergency. Joshi has been appointed as chairperson for three years. Read the story here.
Achieving high end of 6.75-7.5% growth difficult: Economic Survey
India's economy may not achieve the upper end of its projected growth of 6.75% to 7.5% this fiscal year, the government said in a mid-year economic survey on Friday. Disinflationary pressure, agricultural stress, farm loan waiver and introduction of the goods and services tax (GST) are weighing on Asia's third-largest economy, according to the survey. "It is (more) unlikely than before that we will achieve the upper end of the growth estimates," said chief economic adviser Arvind Subramanian. Growth slowed to 6.1% in the fourth quarter ending March after the government's shock move in November to recall 500- and 1,000-rupee banknotes wiped out over 80% of the cash in circulation. Read the story here.
Article 370: Mehbooba says PM assures no fidgeting with J-K special status
Jammu and Kashmir Chief Minister Mehbooba Mufti called on Prime Minister Narendra Modi on Friday who she said assured her of no fidgeting with Article 370, which grants special status to her state. The meeting comes in the backdrop of a debate on Article 35A of the Constitution, which was added to Article 370 in 1954 by a presidential decree, and is being challenged in the Supreme Court. Mufti is fighting growing calls from her ally BJP to abrogate the law, which empowers the Jammu and Kashmir legislature to define the state's "permanent residents" and their special rights and privileges. "The idea of India has to accommodate the idea of Jammu and Kashmir," said the chief minister after her meeting with the PM in his Parliament office. "Spoke to PM. The situation is normalising but people think our identity can be in danger. So the message that J&K is crown of India should be reiterated," she said. Read the story here.
Gujarat govt to give 'Namo' tablets to 3.5 lakh college students for Rs 1000
Around 3.5 lakh college students in Gujarat will get tablets at a subsidised rate of Rs 1,000 each under a state government scheme launched by chief minister Vijay Rupani in Ahmedabad on Friday. Under this scheme, the first year college students in the state will get 7-inch 'NAMO E-Tab' tablets, which have a market value of Rs 8,000 each, by just paying Rs 1,000. Several students, who had already registered for the scheme, received the tablets from the chief minister at the launch ceremony in Ahmedabad. Read the story here.
Army to deploy robots to fight terror in Kashmir
Indigenously built robots, capable of delivering ammunition at intended locations, will soon be used by the Army in its fight against terrorism in Jammu and Kashmir. An army proposal, projecting a requirement of 544 robots, has been approved by the defence ministry, paving the way for the indigenous development of such machines, army officials said. The army's proposal for adopting robotic security and surveillance stresses that the footprint of terror has expanded from jungles and rural areas to urban sectors, necessitating the induction of the systems in the force. Read the story here.
Nawaz Sharif attacks judiciary over ouster, wife files nomination for by-polls
Former premier Nawaz Sharif again attacked Pakistan's judiciary on Friday as he made his way towards Lahore in a rally even as his wife Kulsoom filed her nominations to contest the parliament seat left vacant by his disqualification by the Supreme Court. Sharif's rally, which began making its way from Islamabad to Lahore on Wednesday, is being seen as the start of his PML-N party's campaign for the 2018 general election. After spending the night at a hotel on the banks of the Jhelum river, Sharif made his way into central Punjab, the political heartland of the PML-N, where he again received a mixed reception at different places. Read the story here.
Do not look at the flash or fireball, take cover: Guam issues nuclear guidelines
Guam posted emergency guidelines on Friday to help residents prepare for any potential nuclear attack after a threat from North Korea to fire missiles in the vicinity of the US Pacific territory. Pyongyang's state-run KCNA news agency said on Thursday its army would complete plans in mid-August to fire four intermediate-range missiles over Japan to land near Guam as North Korea and the United States engaged in increasingly heated rhetoric this week. While the governor of Guam shrugged off the North's missile warning and said there was no heightened threat, the government has issued a preparedness fact sheet. "Remove your clothing to keep radioactive material from spreading. Removing the outer layer of clothing can remove up to 90% of radioactive material," read the guidelines of what to do if caught outside. Read the story here.
Who is Prasoon Joshi? Learn more about the new CBFC chief, Pahlaj Nihalani's replacement
One of the most respected names in the Indian film industry, Prasoon Joshi is more than just a talented lyricist. So, when the news of his appointment as the new chief of Central Board Of Film Certification, CBFC, was announced, film fans erupted in joy. Born in Uttarakhand's Almora, the 45-year-old poet and screenwriter is a successful ad man. A science graduate, Joshi started his career with Ogilvy and Mather and went on to become the executive vice-president of McCann-Erickson. He began writing lyrics in 1999 with Bhopal Express, but his big break in films came with the song Kaun dagar, kaun shehar in Rajkumar Santoshi's 2001 film Lajja. Read the story here.
Howzzat! Teenage cricketer takes six wickets in an over, all bowled
A 13-year-old schoolboy cricketer in England has taken six wickets in six balls, all of them clean bowled. Luke Robinson produced his match-winning performance this week for Philadelphia Cricket Club's Under-13s, based near Houghton-le-Spring, Tyne and Wear in north-east England. His family were all on hand to witness his remarkable achievement, with father Stephen having the best view of all -- he was umpiring at the bowler's end at the time. Read the story here.
Personalise your news feed. Follow trending topics