Stay out of our internal affairs: India tells Pakistan over Kashmir remarks
India reacted angrily on Monday to Prime Minister Nawaz Sharif's criticism of the killing of Hizbul Mujahideen commander Burhan Wani, saying his remarks reflected Pakistan's use of terrorism as an instrument of state policy.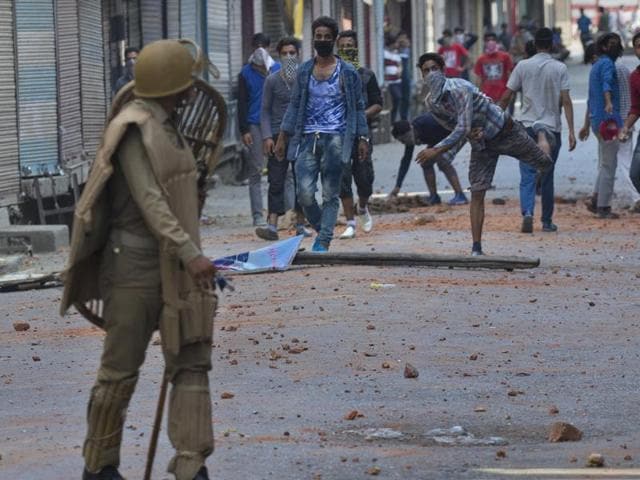 Updated on Jul 12, 2016 01:34 AM IST
The unrest in Jammu and Kashmir over Hizbul Mujahideen commander Burhan Wani's death triggered a diplomatic spat between India and Pakistan on Monday, with New Delhi dismissing Islamabad's criticism and accusing it of using terror as an instrument of state policy.
Prime Minister Nawaz Sharif's criticism of Wani's killing drew an angry reaction from India, which asked Pakistan not to interfere in the country's internal affairs.
Sharif, targeted by opposition parties for what they described as his silence on the Kashmir issue, expressed "deep shock" at the death of Wani and civilians in a statement issued on Sunday. He also said India should fulfil its human rights obligations and commitments under UN Security Council Resolutions.
Read: Kashmir violence: Death toll reaches 22, restrictions continue for 3rd day
On Monday evening, Pakistan foreign secretary Aizaz Chaudhry called in Indian envoy Gautam Bambawale and expressed "serious concerns" over the "killings of Kashmiri leader Burhan Wani and many other civilians". Chaudhry sought a "fair and transparent inquiry against individuals responsible for these killings", said a statement from the Foreign Office.
The Indian government's response was sharp. Without naming Sharif, external affairs ministry spokesperson Vikas Swarup said the statements from Pakistan reflected the country's "continued attachment to terrorism and its usage as an instrument of state policy".
He added: "Pakistan is advised to refrain from interfering in the internal affairs of its neighbours."
There were similar reactions from ministers in the Narendra Modi government. Minister of state for home Kiren Rijiju said Pakistan "should worry about human rights violations in Pakistan-occupied Kashmir" since Kashmir is an "internal matter of India".
Jitendra Singh, minister of state in the Prime Minister's Office, accused Pakistan of stirring up violent protests in Jammu and Kashmir. "As far as Pakistan's involvement is concerned, it is more than evident now…There has been involvement and there has been perpetration of terrorism on India's soil from Islamabad," he said.
Prime Minister Modi, on a four-nation visit to Africa, told a gathering in Nairobi the world community needs to condemn those "who give shelter to terrorists and use them as political instruments".
In remarks that appeared to be aimed at Pakistan, Modi added that "we live in a world where preachers of hate and violence are threatening the fabric of our society".
Read: The Kashmir manifesto: Delhi's policy playbook in the Valley
Like Pakistan's Foreign Office, Sharif had referred to Wani as a "Kashmiri leader" in his statement and said: "It is deplorable that excessive and unlawful force was used against the civilians who were protesting against the killing of Burhan Wani."
Such "oppressive measures" cannot deter the Kashmiris from demanding the "right to self-determination", said Sharif, who returned to Pakistan last week after an open-heart surgery in London.
Opposition Pakistan People's Party leader Bilawal Bhutto Zardari was among those who targeted Sharif, saying the "Sharif-Modi friendship" is causing "irreparable damage" to the Kashmir issue.
Read: Kashmir's disturbing new reality
Jamaat-ud-Dawah chief Hafiz Mohammad Saeed too stepped up anti-India propaganda, saying Wani's killing will strengthen jihad in Jammu and Kashmir.
The JuD used social media to push the Pakistan government to play up the unrest in Kashmir and to back "freedom-loving" Kashmiris.
Saeed joined Hizbul Mujahideen chief Syed Salahuddin for funeral prayers organised for Wani at Muzaffarabad in Pakistan-occupied Kashmir on Sunday. A video of Saeed's speech features him saying: "After Burhan's martyrdom and the martyrdom of many others, I expect the jihad in Kashmir will rise with strength. The scene will change completely."
Saeed also spoke on Wani's death in a video posted by JuD on its official Twitter account. "We ask the Pakistan government and all political parties to take advantage of this situation and immediately declare openly that they will support forces working for Kashmiri freedom," he said.
Read: The Kashmir reading list: 11 books to understand the conflict
Close Story
Personalise your news feed. Follow trending topics