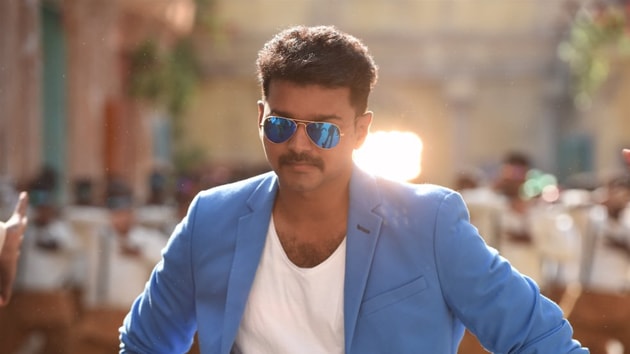 At Bigil audio launch, Tamil actor Vijay takes on AIADMK yet again
Vijay, who has a massive fan following, gave enough hints that all is not well in Tamil Nadu under the current government at the audio launch of his upcoming film, 'Bigil', on Thursday.
Hindustan Times, Chennai | By MC Rajan
UPDATED ON SEP 22, 2019 02:31 PM IST
Tamil film star Vijay, who nurses political ambitions, has once again taken on the AIADMK with a veiled attack on what he said was the ruling Dravidian major's shortcomings.
Vijay, who has a massive fan following, gave enough hints that all is not well in Tamil Nadu under the current government at the audio launch of his upcoming film, 'Bigil', on Thursday.
"It's only when people place the right persons for the appropriate positions, everything will be alright. People with the right skills must be employed in each industry. You can't entrust a person who knows how to braid flowers to man a fireworks shop," he said.
His latest comments come after he expressed his anguish at the alleged slackness of the state police in nabbing the accused responsible for the death of a young engineer, R Subashri, when a huge hoarding fell on her scooter on September 13.
The 23-year-old woman was crushed to death by a water tanker when the hoarding put up by an AIADMK functionary in south Chennai came crashing on the road. The police are yet to arrest the functionary, who is still at large.
"The lorry driver has been arrested and the banner maker has been arrested. But, those who must be behind the bars are still roaming free," he said and exhorted his fans to take up to social media to exert pressure on officials to act.
Also read: We've lost faith in govt: Madras HC on illegal hoardings
This is not the first time Vijay has locked horns with the AIADMK. His last two blockbusters, Mersal (2017) and Sarkar (2018), had political overtones and was criticised by AIADMK.
Mersal had invited the wrath of both the AIADMK and the BJP for references to the late AIADMK leader J Jayalalithaa and criticism of demonetisation and Goods and Services Tax (GST).
In Sarkar, the female villain was modelled on Jayalalithaa and named 'Komalavalli', after the former chief minister's family name.
Vijay is known as the 'Thalapathy' (general) of Tamil cinema and has a huge following in Kerala and Sri Lanka as well. And, Vijay's films top the chart of the first-day collections.
His appeals to fans and the public alike have been used as hashtags to highlight issues like Subashri's death. He had already asked his fans not to erect hoardings and put up banners.
Vijay also warned against his detractors against assaulting or manhandling his fans who put up banners, out of love and admiration. "You tear up my photos or banners, but do not rough up my fans," he said.
The AIADMK ridiculed and dismissed the actor while the opposition DMK welcomed his remarks as that of a responsible citizen.
Reacting to Vijay's remarks, Tamil Nadu minister Kadambur Raju reminded the actor that the government had facilitated the release of his films which faced difficulties in hitting the theatres.
"People never make decisions on the advice of actors like Vijay. People have done the right thing by entrusting in the right hands, placing the appropriate people at the right place," Raju said while speaking to reporters.
The minister also said Vijay's conscience knows that the state government had helped him at times of distress.
AIADMK spokesperson Vaigai Chelvan dismissed Vijay's criticism as an attempt to get publicity ahead of a film's release.
"It has now become a practice for actors to stir up a controversy in hope of getting free publicity before the release of their films and Vijay is no exception," he said.
However, the DMK has come out in support of the actor. The opposite party's propaganda secretary Thanga Tamilselvan defended the actor, saying there is nothing wrong in Vijay's criticism of the current state of affairs.
"He has spoken as a concerned citizen. There is nothing wrong in what he had said," he maintained.
Makkal Needhi Maiam's president and actor Kamal Hassan has also extended his solidarity to Vijay.
"I appreciate Vijay for speaking up, especially for Subashri," he said while speaking to reporters.
Topics
Close