Forces used human shields in anti-militancy ops in Kashmir: Mehbooba
Updated on Aug 17, 2016 08:52 AM IST
What media missed during J-K CM Mehbooba Mufti's 54-minute Independence Day speech was a stunning admission that army and police used civilians as human shields in operations against militants. It was a rare admission by any chief minister of the state since militancy erupted in Kashmir in 1989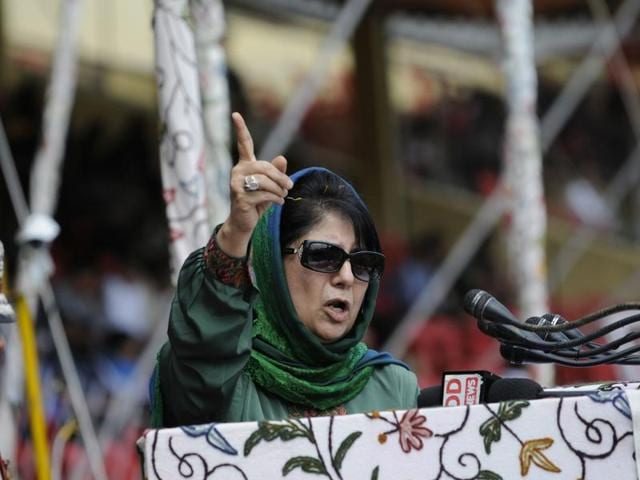 What media missed during J-K CM Mehbooba Mufti's 54-minute Independence Day speech was a stunning admission that army and police used civilians as human shields in operations against militants. It was a rare admission by any chief minister of the state since militancy erupted in Kashmir in 1989.
Driving home her claim that people with "vested interests were using children as shields" to target security forces during the current unrest, Mehbooba said she "fought against government forces" for putting villagers in the line of fire during anti-militancy operations in late 1990s. "When I started politics (in 1996), people would fear to come out of their homes. Youth were not allowed to move out (by their families). They feared that if they went to college they would not return in the evening. People would fear police, Army and CRPF," Mehbooba said.
Read | Five civilians killed, 31 injured in fresh firing in Kashmir; toll reaches 65
"Back then I would fight with army and police, when they would go for crackdown in villages. They would ask villagers to be in front of them to find militants from a house. People would fear that if the militant fired they would die in between. I have fought against this practice," she said.
Altaf Hussain, a former correspondent for BBC in Kashmir, said, "People have made such allegations against security forces often, but this is the first time that a CM has admitted. It is a statement with serious implications."
Read | I-Day attack: Securityman, two militants killed in Srinagar gunfight
Blaming people with vested interest, Mehbooba said, "Today unfortunately those who want J-K to burn are using kids as shields for their nefarious designs. They are putting kids forward with the thinking that they (people with vested interest) will throw stones, petrol bombs and grenades towards security forces. The policeman or the CRPF personnel facing these kids is himself a father and they (people with vested interests) think maybe he will stop firing," she said.
Reacting to the CM's claim, moderate separatist leader Mirwaiz Umar Farooq said, "She has no moral right to be where she is...it proves they had maintained silence over these things."
Read | Army backs pepper shots, chilli grenades over pellet guns in Kashmir
Personalise your news feed. Follow trending topics