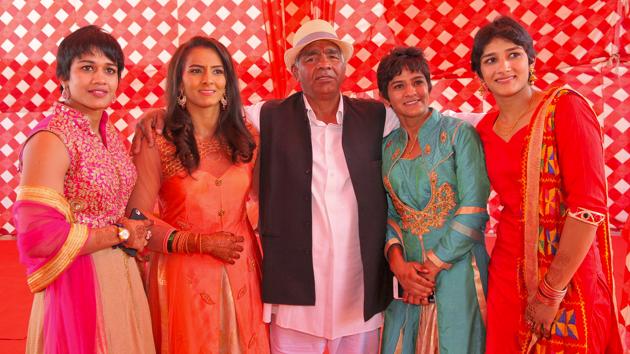 From the wrestling arena to the poll fray: Babita on the Phogat sisters' latest challenge
With the Meerut DM's office keen to rope in the Phogat sisters to come and inspire voters to exercise their right to vote, Babita Phogat talks of her association with politics and what Dangal has done for the sport
UPDATED ON JAN 13, 2017 08:11 PM IST
In 2010 wrestlers Geeta and Babita Phogat became household names after winning gold and silver medals respectively at the Commonwealth Games. Six years later, months after Sakshi Malik became the first Indian woman wrestler to get an Olympic medal and thus the new poster girl for women's wrestling in the country, Aamir Khan has again put the spotlight firmly on the Phogat sisters and their father Mahavir Singh, who dared challenge social disapproval to make wrestlers of his four daughters – Geeta, Babita, Ritu and Sangeeta and his two nieces, Vinesh and Priyanka, at a time when wrestling was thought to be a male sport. The success of Dangal, based loosely on the life of the Phogats, has added to the popularity of the sisters. So much so that in poll-bound Uttar Pradesh the Phogat sisters have been invited to come and inspire voters, especially women, to exercise their vote in the 2017 assembly elections.
A recent report in an English daily quoted Meerut district magistrate (DM) B Chandrakala as saying that the Phogat sisters were symbols of women empowerment and could inspire women voters. The girls' cousin Rahul, who also handles most communications for them, confirmed receiving a call from Meerut DM's office and said the sisters will attend a programme later this month.
Speaking to Hindustan Times, Babita says that while she herself was not actively interested in politics, the family was not strangers to governance. "One of my uncles is a zila pradhan," she says, adding, "It is important for everyone to vote and I would really want to tell everyone, men and women, to do so." Her message to women, both those in her own state as well as elsewhere, she said, would be "to follow their dreams. Women are capable of achieving anything. But often they are kept at home and not given a chance to prove themselves. I will like to say that if really want something and work for it with complete dedication, no one will be able to stop you."
Read: Dangal queens: Haryana's women wrestlers claim their place in patriarchal society
Dangal has brought recognition for the Phogats from even those who are not into sports. "Many more people know us and recognise us now," she admits. But the best thing about the success of the movie and the way it has been received, according to her, is not the popularity it has given her family, but that to the sport itself. "I am really happy to see how it has inspired people to accept and celebrate women's wrestling. Many more parents have been coming to our house with the request to train their daughters in wrestling. It is really heartening to see that," she says.
And the Salman Khan fan (though she adds she likes Aamir too) is all praise for the man who has been getting rave reviews for his portrayal of Mahavir Singh's character – Aamir Khan. "Even when we would visit the sets I was very impressed by the dedication of Khan and the entire cast," she says.
Just like the Mahavir Singh on screen – who is a strict coach to his daughters and demands complete focus from them – the real-life Mahavir too doesn't take too kindly to his daughters being distracted. So is he happy about his daughters attending election programmes in Uttar Pradesh? "We haven't campaigned in any election before, but this is not the first time that we have been roped in for some programme or the other. And it is important to meet people and share our experiences with them, so that it can inspire others to join the sport. Our father realises this. He is only unhappy if it interferes with our practice," says Babita.
But the poll plans in UP doesn't indicate any future political ambitions of Babita's. Though examples of sports-stars joining politics is not rare, Babita firmly informs that her live revolves around wrestling. "I will participate in competitions for as long as I can, and after that probably, I will turn coach," says the 26-year-old.
Close