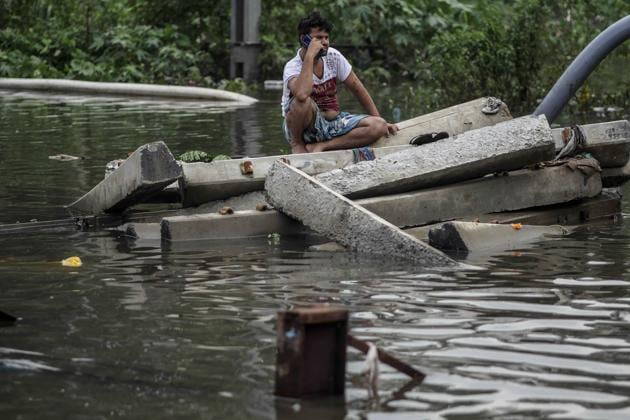 Mumbai rains highlights: High tide expected at 12 noon, likely to worsen waterlogging woes
A high tide of about 4.69 meters is expected to flush gallons of water in Mumbai at 12 noon, increasing the waterlogging problem caused by heavy rainfall in the financial capital. The India Meteorological Department (IMD) has also predicted a low tide of about 1.58 meter at 6:34 in the evening today.Mumbai recorded its second-highest July rain over a 24-hour period on Tuesday in 44 years after the July 26, 2005, floods that killed more than 1,000 people. It was the highest with 944mm in 24-hours after the torrential downpour, especially in the suburbs, between Monday night and Tuesday morning. However, the quantum of rain was the highest 24-hour July rain in 10 years.Follow highlights here:
UPDATED ON JUL 04, 2019 01:59 AM IST
2:02 pm IST
Aircraft overshooting runway occur due to excessive rain: Hardeep Puri
In the wake of incidents of aircraft overshooting runways, Union Civil Aviation Minister Hardeep Singh Puri on Wednesday said such incidents happen sometimes due to excessive rains but everything is under control and there is no cause of concern. "A meeting was held yesterday with Civil Aviation Secretary, airlines operators and DGCA. All is under control, sometimes it happens due to excessive rain and there is no cause of concern," he said.
1:14 pm IST
CM Fadnavis orders probe into Tiware dam breach incident
Chief Minister Fadnavis has announced a probe into Ratnagiri's Tiware dam breach incident. Nine people had drowned this morning and 15 are still reportedly missing as floodwater entered some hamlets after a breach in dam in Ratnagiri district of Konkan. "There will be a thorough probe and the guilty would be punished," chief minister Fadnavis announced today.
1:00 pm IST
Central Railways to run 8 special trains from Dombivali and Thane
Central Railways has arranged eight special trains from Dombivali and Thane railway stations in Mumbai in order to clear the rush during peak hours amidst incessant rainfall on Wednesday. "To ease the travelling of office-goers and college students in the peak hours of travelling, six trains from the main line and 2 trains from the harbour line on Dombivali and Thane railways stations have been arranged. We are also running special trains apart from Sunday schedule ", Sunil Udasi, Chief Public Relation Officer (CPRO) said.
10:28 am IST
Death toll due to wall collapse in Malad climbs to 24
Death toll in Malad wall collapse reached 24 after a small girl's body was recovered today morning.
9:32 am IST
Six bodies recovered, 18 still missing: NDRF
NDRF Deputy Commandant (5th Battalion) Sachidanand Gawade confirms six bodies have been recovered so far. 18 people are still missing. The dam, built 20 years ago, breached due to excessive rainfalls in Maharashtra around 10 pm on Tuesday night.
9:20 am IST
Did not see it coming, admits IMD
The India Meteorological Department (IMD) failed to issue the correct forecast on Sunday or Monday morning for extremely heavy downpour from late Monday night to early Tuesday that inundated the city .
The city recorded 375.2mm (exceptionally heavy category) rain in 24 hours, with 241mm recorded over a nine-hour period. This was the second highest rainfall here since 1975, after July, 2005 deluge that killed over 1,000 people.
Read full story here.
9:14 am IST
7-8 houses swept away: Ratnagiri Minister Ravindra Waikar
Ratnagiri District guardian minister and Shiv Sena MLA from Jogeshwari Ravindra Waikar told HT that seven to eight houses have been washed out in the flow of river after dam breached last night. "The missing people are from four families," he said.
9:08 am IST
Seven villages with population of 1,000, out of connectivity
The combined population of seven villages, whose contact has been partially cut off, has population of 1000.
9:06 am IST
Tiware dam breach: Third body recovered, contact of 7 villages cut-off
NDRF has recovered third body after 12 houses were swept away last night when the Tiware dam breached due to heavy rainfall. The contact of seven nearby villages to the dam has also been cut-off. The dam was breached last night around 10 pm.
8:30 am IST
Death toll reaches 23 in Malad wall collapse incident
One more body has been recovered from debris at 6.30 am. The person has been identified as Pappu Ganesh Shah (38) and was declared brought dead to trauma care hospital in Jogeshwari, confirms BMC's disaster management cell. After a wall collapsed on hutments in Pimpripada area of Malad east due to heavy rainfall, 23 people have lost their lives.
8:20 am IST
High tide alert for Mumbai this noon
Mumbai is likely to witness a high tide of about 4.69 meter at around 12:35 pm and low tide of about 1.58 meter expected at 06:34 pm today, reported news agency ANI.
8:17 am IST
DARK underbelly of traffic logjam at Mumbai airport
As many as 201 flights were cancelled and 370 delayed after a SpiceJet plane overshot the runway while landing at the Mumbai airport amid heavy rainfall late on Monday night. The plane remained stuck on the runway and could not be cleared until late Tuesday as the only Disabled Aircraft Retrieval Kit (DARK) in India was in Mangaluru to clear an Air India Express plane, which overshot the runway there on Sunday.
Read full coverage here.
8:15 am IST
Mumbai gasps as local remains shut for 16 hours
The city's lifeline was severely hit late on Monday evening after train services on Central Railway's (CR) main and Harbour lines came to a near standstill for over 16 hours, owing to incessant rain and flooded tracks. Local trains on both lines, which were disrupted around 11pm on Monday, resumed by 4.30pm on Tuesday.
Read full coverage here.
8:10 am IST
Mumbai's rain pains: We have not learnt any lessons, say experts
In November last year the city's new Development Plan (DP) 2034 came into force after a delay of four years. This crucial document that will dictate how Mumbai develops over the next two decades, however, doesn't address one of the city's most stark current and future challenge: Monsoon-related flooding.
Read full story here.
8:00 am IST
Two dead, 22 missing as Tiware dam breached due to excessive rainfall
Two people killed and more than 20 are reportedly missing after Tiware Dam in Ratnagiri district of Maharashtra breached Tuesday night following heavy rains.
Maharashtra: Bodies of 2 persons have been recovered by civil administration after Tiware dam in Ratnagiri was breached. About 22-24 people are missing. 12 houses near the dam have been washed away. Civil administration, police and volunteers are present at the spot. pic.twitter.com/JN6VQYmsEL

— ANI (@ANI) July 3, 2019
Close