Naked woman with 'mental health' issues rings doorbells at night in UP's Rampur
Feb 04, 2023 09:03 AM IST
The CCTV footage allegedly showed the woman roaming around the streets of Milak village in Rampur.
After a purported video of a naked woman ringing doorbells of multiple houses in Rampur, Uttar Pradesh, was circulated on social media, police issued a statement on Saturday saying the lady has been identified. Rampur police, after getting in touch with the parents of the woman, added that she was suffering from 'mental health' issues and was reportedly undergoing treatment in Bareilly for the last five years.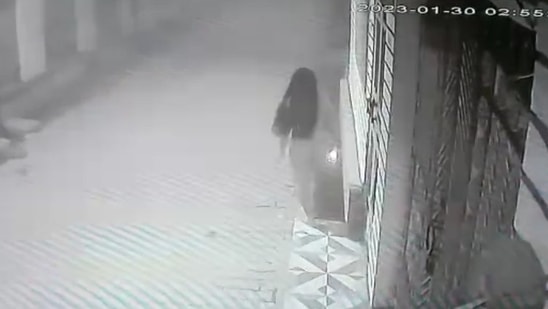 Police also said the family members of the woman have been advised to prevent such a situation in future and requested the public to refrain from spreading misleading information.
The incident reportedly happened at night on January 29. After a local resident filed a complaint, police launched a probe. The CCTV footage allegedly shows the woman roaming around the streets of Milak village in Rampur. Responding to videos shared online, the official Twitter handle of Rampur police informed on February 2 that a team has been formed to investigate the matter.
On February 3, a police official in a tweeted video urged the public to clothe the woman first and then alert the nearest station if they spotted the woman on the streets. He added that the footage was being inspected to identify the woman and initiate action in the matter.
Netizens raised safety concerns over the incident that reportedly occurred post midnight with one user questioning the police, "She was seen naked on the road in Rampur at 1.30 am.. where did she wander!! Don't know who is it?? What were the circumstances?? But in the CCTV footage, she was seen naked till 3 in the night.. after that??Where is the police!! What is law and order?? Shame Uppolice."
On Monday, an Italian woman on a Vistara flight was arrested by Mumbai Police after she attacked cabin crew and walked semi-naked down the aisle. 45-year-old Paola Perruccio, who held an economy class ticket, allegedly hit and spat on the cabin crew after she was refused a seat on the business class.
As per the complaint, the incident happened after the flight took off from Abu Dhabi. The flyer was handed over to security staff and then to the Sahar police after the aircraft landed at the Chhatrapati Shivaji Maharaj International Airport in Mumbai at around 4.53 a.m on January 30.