Men's fashion tips: 5 must-have shoes for men
Published on Aug 09, 2022 04:34 PM IST
Shoes are like make up for the feet and men's fashion is incomplete without shoes. It's time to update your shoe collection by adding these 5 essential shoe pieces.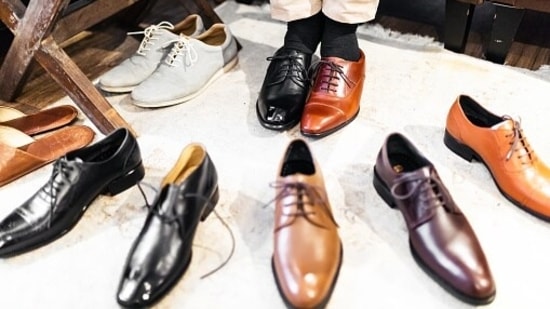 A pair of shoes is the most important fashion essential in a man's closet. Nearly everyone enjoys experimenting with shoes since there is so much variation. Any look can be elevated with a stylish pair of shoes. It might be challenging to consistently update your footwear collection because fashion trends change rapidly. But a selected few timeless pairs of shoes never go out of style and can be paired with majority of outfits. Here are the 5 must-have shoes for men. (Also read : Men fashion tips: 5 style pieces that are must-have in a man's capsule wardrobe)
Slip-on shoes
Add a pair of slip-on shoes to your wardrobe if you don't want to put much effort into your shoes and want something simple, light, and comfortable. They complement the majority of outfits and are appropriate for any occasion. There are no frills or hooks, laces, or other effort-requiring accessories. The slip-on is now more popular than ever, especially during the hot and breezy summer months, when comfort is a top priority while getting dressed.
2. Converse shoes
Converse shoes are timeless; they have been produced since 1908 and are still fashionable today. Converse shoes are fashionable, trendy, and cool. They are reasonably priced and widely accessible. They provide you with many alternatives because they are available in a variety of colours and combinations. A simple pair of converse in white or black is ideal for you if your vibe is casual.
3. White sneakers
All people should own a pair of white shoes because they go with practically every outfit. A pair of white shoes can be purchased for a reasonable cost and is easily accessible in nearby marketplaces or online. White sneakers have been popular since several years and are not going to go out of style anytime soon. They may add elegance to any outfit.
4. A pair of formal shoes
Every man must have formal shoes in their collection. They appear slick, fashionable, and stylish. Without much effort, they may instantly make you look wealthy or elegant. You can choose from formal shoes made of basic leather, chukka boots, or monk straps. These are ideal for the workplace, conferences, elegant events, or job interviews. They are frequently durable and worth the investment.
5. Loafers
Loafers are an excellent combination of upscale fashion with a subdued desire to have fun. From leather to rubber, loafers are available in a wide variety of designs and materials. Finding a loafer that meets your needs is simple with the variety of alternatives available. Anyone who spends a lot of time on their feet will appreciate loafers' ease of use compared to shoes with laces. All day long comfort is guaranteed and they go with every outfit.
Personalise your news feed. Follow trending topics