Shweta Tripathi kickstarts the week with an intense yoga routine. Video inside
Published on Jun 27, 2022 03:12 PM IST
Shweta started the week on a fitness note with an intense routine of Bakasana under the guidance of her fitness trainer Tridev Pandey. Take a look at the snippets here.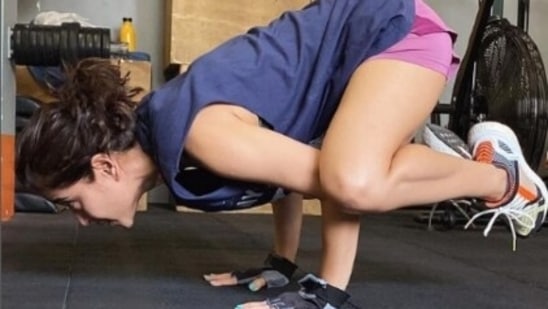 Shweta Tripathi's fitness diaries are getting better by the day. The actor keeps slaying her fitness routines to perfection. The snippets from her gym often make their way on her Instagram profile and manage to give us fresh fitness inspo to take on the day. Shweta believes in the power of yoga and high intensity workouts. The actor ensures to focus her dedication and strength into her fitness routine on a daily basis. When not working for the screen, Shweta is usually spotted in the corners of her gym engrossed in a workout routine.
ALSO READ: Another day, another fitness routine from Shweta Tripathi's gym
Shweta, on Monday, brushed our blues away with a set of glimpses fresh from her morning workout. Shweta started the week on a high note with an intense routine of Bakasana. In the picture, Shweta can be seen balancing her body on her palms with her legs bent to form the Crow Pose. Dressed in a blue T-shirt and a pair of pink gym shorts, Shweta can be seen engrossed in the routine. In a video, Shweta also gave us a glimpse of the effort that went in acing this asana. "Trying to balance in the upside down," Shweta captioned her snippets. Take a look at Shweta's gym routine here:
Shweta's Instagram post was flooded with likes and comments from her friends, family and fans in no time. The best comment, however, came from none other than Shweta's husband Chaitanya Sharma. He dropped by to write, "When your phone falls under the bed and you need to see where it went." LOL.
Bakasana, also known as the Crow Pose, comes with multiple health benefits. It helps in strengthening the arms and the core muscles. It also helps in strengthening the glutes, adductors and shoulder stabilisers. Bakasana helps in making the wrists stronger and stretching the upper back and groin. Incorporating this yoga asana in the daily fitness routine also helps in preparing us for other arm balances. It also helps in toning and strengthening the spine.