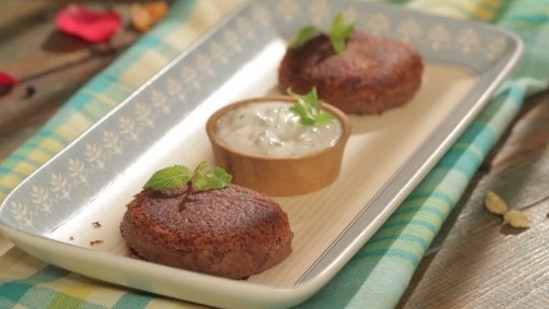 Craving kebabs? These quick, easy vegetarian galouti kebabs will make your day
This recipe for vegetarian galouti kebabs by Chef Ranveer Brar is perfect for those who wish to gorge on some delicious kebabs without indulging in meat.
UPDATED ON JUL 28, 2021 11:20 PM IST
Galouti Kebabs are delicious melt in the mouth kebabs that are a kebab lovers treat, but if you are refraining from eating meat then this recipe by Chef Ranveer Brar with rajma, elephant foot yam, cashew nuts, ghee is not only rich and delicious but also super easy to make. Check it out...
Ingredients
For Kebab Paste
1 ½ cups Rajma – boiled
½ cup Elephant Foot Yam – boiled
1 heaped tbsp Ghee
10-12 Cashew Nuts
Salt to taste
1 tsp Ginger-Garlic Paste
½ tsp Degi Red Chilli Powder
For Kebab Masala
1 tsp Stone Flower
4-5 Black Cardamom
2 tsp Black Peppercorns
2 tsp Coriander Seeds
5-6 Green Cardamom
2 inches Cinnamon Stick
2 Mace
1 tsp Black Cumin Seeds
½ small Nutmeg
A few Rose Petals
Other Ingredients For Veg Galouti Kebabs
2 tsp Fried Onion – chopped
Salt to taste
1 tbsp roasted Gram flour
Ghee for frying
For Smoking
2 hot Coals
3-4 Cloves
1 tsp Ghee
For Chutney
5-6 Walnuts – roasted & chopped
½ tsp Fennel Seeds
2-3 fresh Green Chillies – chopped
1 cup Curd
Method to Prepare
For Kebab Masala
In a pan dry roast all the whole masalas until they release aromas, then once cooled grind to a fine powder.
For Kebab Paste
Start by frying your cashews in ghee until golden brown.
Then add rajma, elephant foot yam, fried cashew nuts, salt, ginger-garlic paste, degi red chilli powder and mix everything properly. Then grind all of this until it forms a paste.
Add fried onion, kebab masala, salt, gram flour and mix with the kebab bean paste until everything is uniformly combined.
For a tandoor effect take a hot coal and place in metal bowl with cloves and ghee and place in kebab mixture, cover with a lid for at least 5 minutes.
Then remove the cover and the small bowl, and take the mixture making it into small kebab sized balls.
Then take a non stick pan and put some ghee on it and cook your kebab until crispy and golden brown.
For Chutney
Mix curd, chopped walnuts, fennel seeds, green chillies and mix everything properly. And serve with kebab.
(Recipe courtesy Chef Ranveer Brar)
Close