Tour of Suryagarh Palace Jaisalmer, the romantic wedding venue of Kiara Advani and Sidharth Malhotra
Feb 03, 2023 10:52 AM IST
Bollywood's rumoured couple and 'Shershaah' actors Kiara Advani and Sidharth Malhotra will reportedly tie the knot at Suryagarh Palace Jaisalmer on February 6. Here's all you need to know about the tourist attraction in the heart of the Thar Desert in Rajasthan
Jaisalmer was recently in news for attracting tourists with the helicopter joyride that has been started from Samdhani on an experimental basis through a maximum of 40 flights per day in two slot packages of 5 minutes and 15 minutes and looks like the Rajasthan district has turned a B-Town favourite too as Bollywood's rumoured couple and 'Shershaah' actors Kiara Advani and Sidharth Malhotra will reportedly tie the knot at Suryagarh Palace Jaisalmer on February 6. The rumour mills started running at full speed after the official Instagram handle of Suryagarh Palace Jaisalmer reacted to a paparazzo post sharing details about the D-day and reports hint that around 100 guests including Shahid Kapoor, his wife Mira Rajput, Karan Johar and Manish Malhotra are expected to attend the wedding.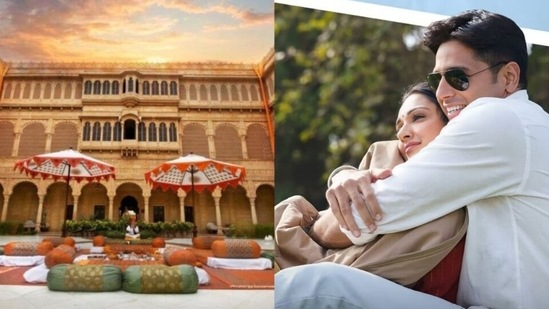 Jaisalmer is home to religious, wildlife and heritage places which facilitate domestic and foreign tourists and Suryagarh Palace is one of them as a luxurious fortress in Jaisalmer, outback of Rajasthan, that promises a gateway to the magnificent Thar Desert. It boasts of carefully preserving the traditions of the past yet framing them in a modern idiom where the hotel "takes the path less travelled and discovers with you, secrets of a land that have been long shrouded in myth and legend."
At a distance of 28 km from Jaisalmer Airport, the Suryagarh Palace bursts with gardens, patios and courtyards for intimate outdoor celebrations where the Bawdi stepwell would be splendid for Sid and Kiara's wedding ceremony while the lake gardens could serve as the perfect sit-down dinner and the tents in the dunes would make for a magical cocktail party venue to host Tinsel Town guests. Though built recently, it gives the feel of the 17th century with views of the Thar Desert from its own infinity pool, peacocks for company and each stone of the sandstone edifice handcrafted and hand-chiselled to reflect the indigenous desert culture.
The paparazzi have already reached Jaisalmer and have been welcomed by Suryagarh Palace's official Instagram handle to immerse in the royal experience within the sprawling fortress. Taking to his social media handle, Viral Bhayani had posted recently, "We are heading to Jaisalmer to cover #kiaraadvani and #sidharthmalhotra wedding. We will land tomorrow and then take a jeep to Jaisalmer. One team will have to wait at Jodhpur airport incase guest are not taking chartered flights direct to Jaisalmer. We are not sure what we are going to get, but we will brace the cold weather and try our best. Most images normally get uploaded by the stars we just wait and watch. 4th to 6th Feb is where the wedding will take place at Suryagarh Palace (sic)."
Quick to respond, Suryagarh Palace commented, "See you soon," along with a heart emoticon. With 2 gardens and courtyards, 83 rooms and air connectivity to Jaisalmer, Sid and Kiara's guests will be able to enjoy the hidden tales of the Thar while they escape to the gold-tinted world of Suryagarh if the wedding really takes place at the Suryagarh Palace.
Along with cultural offerings, Jaisalmer has many options to explore for slow travel as this is a place that guarantees an immersive experience and attracts many travelers every year courtesy its rich heritage that has a lot to offer to the tourists. Be it food, music, dance, art, etc, Jaisalmer is a place that won't disappoint when it comes to substantial experiences and other than the beautiful landscapes and wildlife cultures, it is known for its lip-smacking food where Laal Maans, Daal Baati and Ghevar remain some of the best and popular dishes Jaisalmer has to offer.