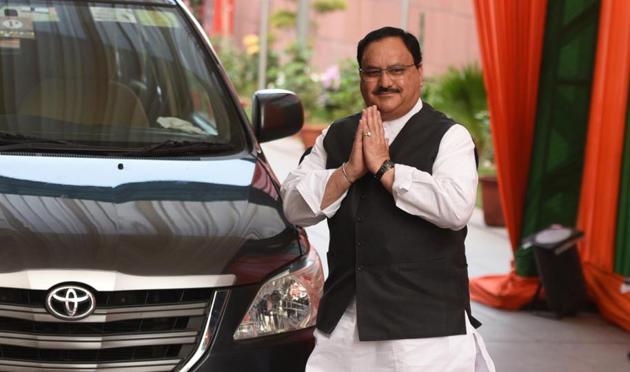 Lok Sabha Elections 2019: 'BJP will win Amethi, Azamgarh and Kannauj'
Face-to-Face with union health minister JP Nadda
UPDATED ON MAY 04, 2019 12:27 PM IST
From deciding which leader is best suited to hold rallies to finalising the place and time, union health minister and BJP's UP in-charge JP Nadda, an old hand of the Rashtriya Swayamsevek Sangh (RSS), quietly monitors the 200-odd party cadre who are engaged in poll-related backroom activities.
In an interview to Manish Chandra Pandey, Nadda says that the BJP would win even Kannauj, Rampur and Azamgarh seats.
Excerpts:
As the campaign enters its last three phase and heads towards Awadh, the issue of Ram Temple is still missing. Prime Minister Narendra Modi was 25 kilometres from Ayodhya but did not visit the makeshift temple and Hanumangarhi. When (Congress general secretary) Priyanka Gandhi Vadra skipped visit to the makeshift temple in Ayodhya, why did the BJP target her?
I won't speak on Priyanka Gandhi Vadra for I can't comment on political tourism. So far as Modi ji is concerned, he is the party's lifeline. He wasn't in Ayodhya per se, but 25 kilometres away from it. We are committed to the temple issue and aren't into symbolism.
There is a feeling that the BJP's tally shot up in UP due to Modi wave in 2014. From the peak, isn't there is just one way, down?
Tell me did you expect the BJP to win the kind of seats it did in 2014? Under BJP chief Amit Shah's stewardship there has been a sea change in the organisational capability of the party in UP. In 2014 LS polls, as the then UP in-charge, he had concentrated on booth level activity. In 2017, he concentrated on expanding the booth activity and tried to ensure that the PM's popularity was effectively converted into votes. Post-2017, BJP has become a party representing all sections of the society in UP.
You mean to say that the caste arithmetic of SP-BSP won't have any impact?
(Smiles) Caste in politics has been a long standing reality. But that was till 2014 after which the country's politics started changing. Now, an average Indian wants to vote for development and country's security. You would have seen how the leadership and vision of PM Modi resulted in the United Nations naming Pakistan-based Masood Azhar as a global terrorist.
You say UP will rally behind the BJP but yet your party failed to find a single Muslim worth fielding in the state?
Unfortunately this has been the set benchmark to appease minorities without doing anything for them. We have benefited minorities by ensuring that they benefit like everyone else through our development initiatives. You can check how minorities have been progressing under BJP rule.
Your party has engaged in tactical posturing in Amethi and Azamgarh. Are you actually confident of winning these seats?
Yes. And, you can add Rampur (from where SP heavyweight Azam Khan is contesting) and Kannauj (from where SP chief Akhilesh Yadav's wife Dimple Yadav is a candidate) too!
Sounds like posturing.
May 23 isn't far away.
Okay, put a number to your 2019 tally from UP.
Easily 74-plus seats.
Close