Lok Sabha election 2019: Attacked by goons, says BJP's Bharati Ghosh on taking shelter in temple
Polling is being held in Ghatal along with seven other Lok Sabha seats in West Bengal in the sixth round of the seven-phased election on Sunday.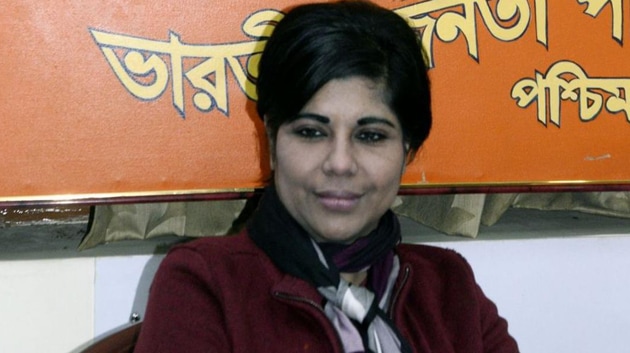 Updated on May 12, 2020 08:25 PM IST
Bharati Ghosh, BJP's candidate from West Bengal's Ghatal constituency, was in tears on Sunday morning after being heckled at a polling booth. Ghosh alleged that she was pushed by some women supporters of the Trinamool Congress when she went to a polling station in her constituency.
The former Indian Police Service (IPS) officer, once considered close to chief minister Mamata Banerjee, said her polling agent was not allowed to enter the booth in Chandkhali area of Keshpur in West Medinipur district. "I am the candidate. I am being pushed around and heckled. Those assaulting me and preventing my polling agent to enter the booth should be arrested," said Ghosh.
"TMC supporters pushed me to the ground. They are not allowing any polling to be held in Keshpur area. These women were hired by the TMC. I shall complain in writing to the ECI (Election Commission of India)," she alleged.
WATCH: Lok Sabha Elections 2019: Big fights to watch out for in Phase 6 of voting
Also Read | BJP worker found dead in Bengal's Jhargram, a day before polls
Ghosh was the superintendent of police in West Midnapore district for six years from 2011 to 2017 in which her constituency is located.
"TMC knows that BJP is winning here. That is why they are in fear and TMC workers tried to prevent and threaten Bharati," BJP state president Dilip Ghosh was quoted as saying by news agency ANI.
After trying without luck for about 45 minutes to get her agent inside the booth, Ghosh left the area alleging that the incident was a part of the conspiracy by the TMC men to keep her confined to a particular spot.
Stones were pelted at Ghosh's convoy when she was going to visit another booth at Dogachia in Keshpur after receiving complaints of rigging there. One of her security guards was injured and a vehicle was damaged in the stone pelting.
"This is a deliberate attempt by the Trinamool Congress to stop me. They attacked me and I am injured. That my security guards have fired is an absolute lie," Ghosh told news agency PTI.
Also read: BJP candidate Babul Supriyo's car vandalised in Bengal poll violence
Bharati Ghosh's vehicle was again blocked by locals when she tried to enter Keshpur market area. The state police intervened and her vehicle was seized. A police officer said her vehicle didn't have a valid pass to move through the area on the polling day.
After the seizure, a large number of protestors gathered at the spot and Ghosh took shelter inside a temple in Keshpur market area with her security officers guarding her, PTI reported. The mob also pelted stones at the policemen who resorted to lathicharge to disperse them. Ghosh was then taken to Keshpur police station.
Also read:
The state chief electoral officer has sought reports from the West Midnapore district magistrate about the incidents. The CEO also sought a report after Ghosh was seen videographing inside a polling booth at Pikurda in Keshpur.
Violent clashes have been reported in West Bengal in almost all the phases of the general elections. The BJP's candidate in Barrackpore parliamentary constituency Arjun Singh had alleged he was "attacked by goondas" of the Trinamool Congress during the fifth phase of polling.
Before that, scuffles and violence were seen in Asansol, where sitting member of Parliament Babul Supriyo's car was vandalised. The minister escaped unharmed with only the rear glass of the vehicle being damaged.
Also read: BJP's Arjun Singh alleges attack by Trinamool 'goondas' in Bengal's Barrackpore
At least ten supporters of the Bharatiya Janata Party were injured after they were beaten up allegedly by some TMC men on Friday in Baikunthapur village under Daspur police station area of the Ghatal constituency.
Ghosh is facing Bengali cinema's superstar and Trinamool Congress (TMC) member of Parliament Dipak Adhikari alias Dev in the Ghatal parliamentary constituency. The votes will be counted on May 23.
Polling is being held in Ghatal along with seven other Lok Sabha seats in West Bengal in the sixth round of the seven-phased election on Sunday.
Close Story