Lok Sabha elections 2019: "Nothing wrong in praising army during polls," home minister Rajnath Singh
In a poll season marred by 'Ali vs Bajrang Bali' controversy, Rajnath has blended his campaign with temple visits, sandwiched by visits to Muslim clerics and churches.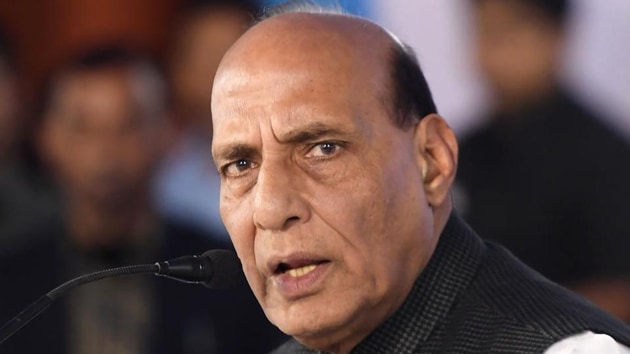 Updated on May 05, 2019 12:21 PM IST
A Christian priest prays for his victory as union home minister Rajnath Singh, who has had several Muslim clerics supporting him in his bid for a second term as Lucknow MP, patiently meets everyone at the residence of his lawmaker son Pankaj Singh.
In a poll season marred by 'Ali vs Bajrang Bali' controversy, Rajnath has blended his campaign with temple visits, sandwiched by visits to Muslim clerics and churches.
Rajnath is up against the Alliance candidate Poonam Sinha, whose daughter and actor Sonakshi Sinha and actor-turned-politician husband Shatrughan Sinha are drumming up support for her, and Congress's nominee Pramod Krishnam.
In an interview to Manish Chandra Pandey, Rajnath spoke on a range of issues including elections, patriotism and Kashmir. Excerpts:
Patriotism and nationalism have become poll talk. Congress has accused the BJP of politicising the valour of the armed forces. What is your take?
Every Indian, who values nationalism, is a patriot. Praising a commendable work undertaken in the interest of the country from poll stage doesn't come under the violation of model code of conduct. Can't we even praise our security personnel who toil so hard for the country?
Why then is the BJP being accused of politicising patriotism?
It's a baseless charge. We will praise our security forces come what may. Nothing is bigger than the country and those who guard it.
BJP chief Amit Shah has spoken of scrapping Article 370 and giving special status to J&K. Former J&K CM Mehbooba Mufti says Kashmir would burn if that happens. What do you have to say on this as well as Omar Abdullah's 'two PMs' statement?
We will review both Article 370 and Article 35 A of the Constitution when we return to power. It must be examined whether these instruments have helped the border state or not. We will scrap it if we find that it hasn't helped the state. So far as Omar Abdullah's "two PM statement" is concerned, I condemn it in strongest possible terms. It was Atal Bihari Vajpayee who had given the slogan of 'Insaniyat (humanity), Kashmiriyat (Kashmiri values) and Jamhooriyat (democracy) that made him popular in the Valley. When you talk of reviewing and scrapping Article 370 and 35 A, don't you think it is contradictory to Vajpayee's mantra? A: No. We remain committed to 'insaaf' (justice) and 'insaniyat' (humanity). Our policy is clear. Justice to all, appeasement of none and that's what we would do.
What has been the change you have witnessed in Kashmir in the last five years?
A lot has been done and a lot needs to be done. The people of Kashmir want peace and development. Under PM Modi's stewardship maximum financial help has been given to the state. It needs to be seen who is blocking the state's progress. This is a cause for concern. This is the first time that SP-BSP have teamed up against BJP in Lucknow where Congress has fielded a seer against you. How are you facing the challenge? Coolly. I am getting support from all sections. I have never done politics of caste, creed or religion. Our PM's motto is 'sabka saath, sabka vikas'. Our political opponents try and create fear of BJP, marketing it as communal. But, the fact is that they create sense of fear among minorities and now, people are seeing through their game. We have initiated works and projects worth ₹24,000 crore for Lucknow. This will benefit all.
While poll discourse is plummeting we saw your son Neeraj touching the feet of Congress candidate in Lucknow during campaign. How do you see it?
It's nice as I myself have never engaged in politics of hate.
Close Story
Personalise your news feed. Follow trending topics