Lucknow's Sadhvi critical after suffering severe burns
Updated on Nov 25, 2018 10:03 AM IST
CONFLICTING VIEWS: Cops say self immolation but her nephew alleges four people set her ablaze over a property dispute.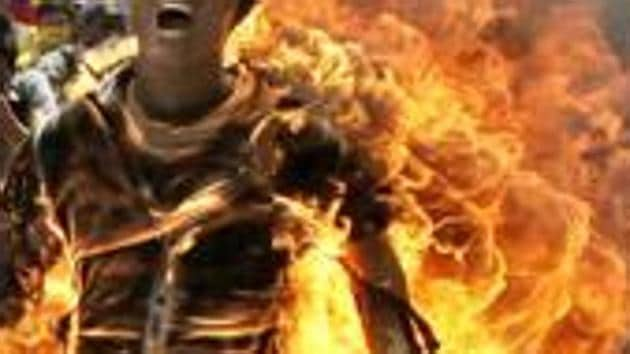 Sadhvi Koyal Giri, 38, suffered severe burns and was very critical after she reportedly set herself ablaze at her house in Bahadurganj village under Tilhar police station of Shahjahanpur district late on Friday night. Police said it was a self immolation bid but the victim's relatives alleged four people set her ablaze over a property dispute, when she was returning home late night.
Sadhvi Koyal Giri, earlier known as Seema Verma, had taken 'diksha' (initiation) from Mahant Divya Giri of Mankameshwar Math of Lucknow in January this year. She also contested assembly elections from Nigohi constituency of Shahjahanpur as a Peace Party candidate in 2012 and remained on the sixth position.
Giri's nephew Amit Rajput said she was troubled with multiple criminal cases related to fraud registered against her and harassment by Pankaj Gupta, Sushil Babu Gupta, Anurag Gupta and Anil Gupta. He alleged that the Guptas chased her when she was returning home from Lucknow and set her ablaze.
Rajput said Giri suffered over 80% burns and was shifted to a Bareilly hospital where her condition was stated to be critical.
Talking on phone, inspector of Tilhar police station, Ashok Pal said initial probe revealed that Giri had gone to Lucknow for 'Gomti Aarti' on Friday morning and returned to Shahjahanpur at around 9 pm. He said Giri's niece Shruti told police that she (Giri) was visibly upset when she returned and locked herself in a room.
The inspector said Giri's nephew and other family members later turned up with allegations of the Guptas setting her ablaze over property dispute. He said the Guptas had lodged an FIR against Giri of land grabbing after manipulating facts and preparing forged documents.
He said the family members had earlier said they rushed to rescue Giri when they saw smoke coming out of the room. They first took her to a local hospital from where she was later referred to Bareilly hospital considering serious burn injuries. He said so far police had not received any formal information about the incident but a police team was in touch with the family. No clear reason had emerged behind her grave step, he said.
Giri's followers, however, alleged that she was troubled due to fake criminal cases registered against her. They said Giri was arrested and sent to jail thrice in the past two years due to which she was feeling depressed.
The inspector said four criminal cases related to land fraud and bank related fraud were registered against Giri at different police stations in Shahjahanpur since 2016. He said three cases were lodged at Tilhar police station while one case was registered with Sadar Bazar police station. He said the last case related to land grabbing was lodged against her by Guptas in September 2018 at Tilhar police station but she had take stay against arrest in the matter.
Personalise your news feed. Follow trending topics