All the ways to unclog Mumbai
Updated on Nov 25, 2016 09:39 AM IST
Mumbai can move beyond the crowded buses, local trains and Metros. How else can we commute? Let us count the ways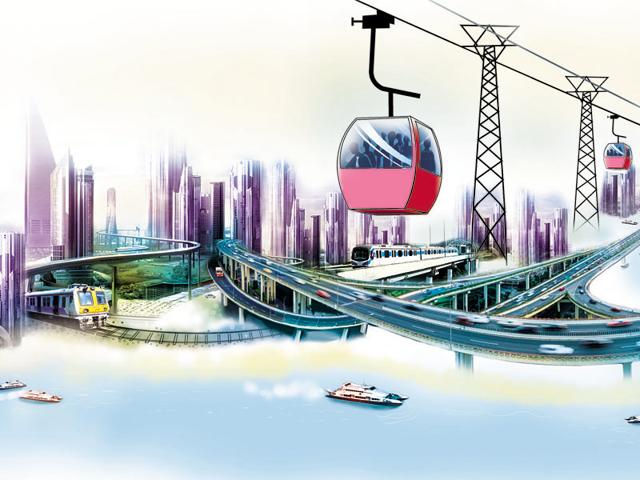 Close your eyes, tune out the chaos of your daily commute and imagine this for a moment. Imagine a Mumbai where roads are not packed with cars and people don't hang out of trains; where cycling and walking to work is fun; where boats can get you from one end of this megapolis to the other in less than 20 minutes; where ropeways criss-cross overhead connecting you to the nearest metro and railway stations. This could be the future of transport in Mumbai, if we get cracking now.
The Devendra Fadnavis-government is working on showpiece, big-ticket projects that promise to make commuting in Mumbai more tolerable. Plans include a 173.9-km Metro network costing Rs76,000 crore, multi-crore upgrades to the suburban rail network, and two ambitious road project, a coastal road in the west and a link across the Mumbai harbor, costing more than Rs30,000 crore.
But there are alternatives — less expensive ones such as bicycles and river buses — that mega cities the world over are trying. These may not replace mass-transit modes, but will certainly help complement them. While the government has been toying with a few ideas, the efforts have been sporadic, and the planning dowdy.
How else can Mumbai travel? Let us count the ways.
TAPPING WATERWAYS
The suggestion to tap the seas that flank Mumbai from three sides was first mooted in 1983 by an expert group of the state home department in a report titled 'Development of Waterways around Bombay Harbour for Commuter Traffic.' Several false starts, failed rounds of tendering and a tug-of-war between government agencies later, a portion of the project is now being considered for implementation. The Bharatiya Janata Party (BJP)-led Maharashtra government wants to develop the city's eastern coast for roll-on, roll-off ferry services — where commuters can take their cars on the boat. It has asked the Mumbai Maritime Board (MMB) to look at ther project, with the help of CIDCO and the Mumbai Port Trust. The Rs350-crore project will take you from Mandwa in Raigad via Nerul in Navi Mumbai to Ferry Wharf in south Mumbai in about 20 minutes. While the project has been significantly scaled down from its earlier proposed scope, to now include just two roll-on, roll-off berths at Ferry Wharf instead of the eight catamaran berths and four roll-on, roll-off berths initially proposed, it is still an effective way to get vehicles off the road.
Atul Patne, chief executive at MMB, said, "The project was not financially viable earlier, and so the government was not getting bidders. This time, we expect it to take off and serve about 1,000 vehicles a day." A similar plan for passenger water transport on the western coast was proposed, to connect Borivli, Marve, Versova, Juhu, Bandra, and Nariman Point and decongest the always-clogged roads in the west, but this is currently on hold as waters on the western coast are choppy.
Transport expert AV Shenoy pointed out that it's time transport authorities shift focus. "Unfortunately, the focus has always been vehicle-centric, and all efforts for starting water transport in Mumbai have been half-hearted. For example, on the western coast, instead of investing in a coastal road, the government could invest in catamarans and hovercrafts."
The MMB is also coordinating an effort among six municipal corporations to start water transport services along the Thane creek, to connect the Mumbai Metropolitan Region to each other and to Mumbai city. Jetties are proposed at Mira-Bhayander, Vasai-Virar, Saket, Kolshet and Ghodbunder.
MAKING MITHI NAVIGABLE
The very river that angrily swelled and inundated the city after years of neglect, can be respected, maintained and used as a valuable resource for transportation, experts say.
The Mithi River, reduced to a drain with years of dumping garbage and industrial sewerage, is actually a resource waiting to be used. It snakes through Mumbai, from the far north to its centre for 17.9km through the slums and industries of Sakinaka, Kurla, Kalina, Vakola, Bandra Kurla Complex, Dharavi and Mahim. Despite having spent more than Rs1,000 crore on rejuvenating the contaminated river, the government has been unable to cap sources of pollution. Earlier this year, the chief minister promised, on the floor of the legislative assembly, to draw up a plan to use it for transport.
"The first step is to clean it. The Brihanmumbai Municipal Corporation has consulted the Indian Institute of Technology. Multiple sewage treatment plants are proposed to be set up, the slums have to be cleared and industrial units on the bank have to be shutdown. The river can be a transportation avenue only if we are able to do all this," UPS Madan, metropolitan commissioner, Mumbai Metropolitan Region Development Authority (MMRDA), told HT.
ABOVE IT ALL
Another great way to beat the traffic below, and even clear it, is by developing ropeways. CIDCO is considering two proposals – a 5-km route between Vashi station and Koparkhairane and a 9.7-km one from Ghatkopar to Vashi across the Thane creek; MMRDA is mulling an 8-km ropeway across Sanjay Gandhi National Park to connect Borivli and Thane, mainly keeping tourism in mind.
"We are still working out the economics," Madan said. "Ropeways are basically good for areas that are otherwise slightly inaccessible. They can probably carry about 16 people at once, and uninterrupted services can make them a viable public transit option."
Cities around the world, such as London, Rio, Medellin and Caracas, have attempted to use them to complement their rail networks.
Their benefits are many, but a ropeway network doesn't come cheap. They will only prove financially viable if there is a continuous flow of passengers, and this will happen only if they are aligned well.
"Until now, state authorities have looked at the ropeway as a tourist attraction, while other countries have used it for transportation with people in mind, and not systems," said urban planner Sulakshana Mahajan. "Brazil for instance has implemented a ropeway to connect hilltop slums so slum-dwellers can participate in the city's economy."
TAKING CARS OFF THE ROADS
Walking, cycling and carpooling, three very basic, easy-to-implement, cost-effective modes of transport find no mention in the Fadnavis government's — or even in the previous government's —plans for transforming Mumbai.
Fifty-one percent of all trips in Mumbai are by foot, but there are large patches of roads where footpaths are eaten up by cars. Where there are footpaths, pedestrians have to negotiate jaywalkers, hawkers and broken tiles. Thirty-one-year-old Kashmira Rane, a financial analyst, travels from Malad to Goregaon by train and then takes an autorickshaw from the station even though it is just a 20-minute walk. "I feel messy and irritated by the time I reach office if I walk through the maze of unkempt footpaths and hawkers. If we had pedestrian infrastructure like European cities, I would consider walking."
The city's draft development plan for the next two decades has just a few pages on how facilities for pedestrians can be improved.
Similarly, after very expensive attempt at a cycling track in Bandra Kurla Complex failed, the state government has stopped promoting cycling in the city. "The government first needs to inculcate a culture of cycling among Mumbaiites. People look at cycling as a transportation mode for milk-sellers or vendors. They must start looking at it as a sensible travel option for students and office-goers. And, the roads have to be designed for it," said Shenoy.
Increasing the number of share autorickshaws and taxis at prime locations could help reduce the load on roads. The government can also promoted car-pooling in a big way. Car-pooling services by app-based cab aggregators such as Uber and Ola are now gaining popularity.
WHERE WE HAVE FAILED
The 19.5-km Chembur-Wadala-Jacob Circle IS perhaps the biggest failure among any attempts to harness alternative, supplementary methods of transportation. Touted as the country's first monorail, when the state took up its construction, it estimated a ridership of at least 1.5 lakh a day. Still incomplete after eight years of being under construction, it currently caters to just 15,000 people daily between Chembur and Wadala. The monorail's narrow frame makes it a practical alternative for crowded Mumbai, but the first phase was built through areas where there is space available to operate buses that serve the same purpose, at a much lower cost. While it was also supposed to act as a feeder to the local train network, its alignment threw it off gear.
"Most experts and administrators knew the monorail is not going to work, but the decision was taken anyway. We just copy what we fancy without pausing to contextualise it," Mahajan said.
Another major failure is the government's much-criticised project of building 36 skywalks that were to improve connectivity around the city's railway stations. Many of them were designed without escalators or elevators, and their maintenance is poor. It hardly makes for a pleasant walk.
With plenty of resources waiting to be used, the future of transport in Mumbai can be smart and efficient…if we get cracking now.
READ:
HT Unclog Mumbai: Bursting the biz hub bubble
HT Unclog Mumbai: Plans on track, bumps ahead
HT Unclog Mumbai: Next station, a brand new train network
HT Unclog Mumbai: And miles to go before we reach
HT Unclog Mumbai: A ticket to swipe right through
HT Unclog Mumbai: It's not a walk to remember
HT Unclog Mumbai: It's the BEST option for Mumbaiites
Personalise your news feed. Follow trending topics