Debt-ridden farmer commits suicide, fourth in two days, Maharashtra strike may intensify
Mumbai city news: As the strike enters its eighth day, the Kisan Kranti Morcha will meet to discuss what course the agitation should take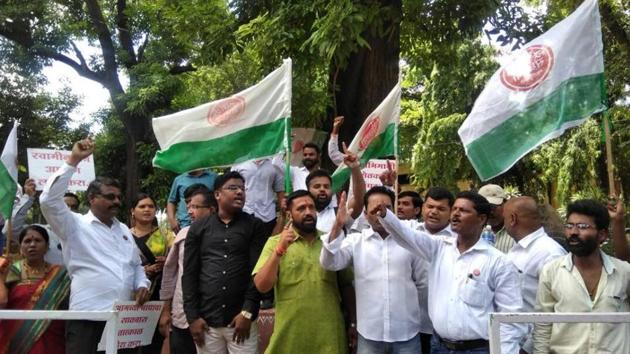 Updated on Jun 09, 2017 01:08 AM IST
Farmer Dhanaji Jadhav committed suicide on Wednesday evening at Karmala in Solapur district, making him the fourth to have killed himself in two days. In his suicide note, Jadhav said he owed money to banks and moneylenders. He also requested his family not to conduct funeral rites until farmers' loans were waived and chief minister Devendra Fadnavis met them personally.
As the farmers' strike enters its eighth day, the Kisan Kranti Morcha — a 21-member core committee of farmers' outfits — will meet today to discuss what course the agitation should take. The recently reconstituted core committee, which comprises prominent farmers' leaders and agricultural experts is likely to come up with plans to intensify the agitation.
Swabhimani Paksha chief and Kolhapur MP Raju Shetti, an ally of the BJP-led state government, decided to make the agitation a nationwide one by calling a meeting of all farmers' outfits in Delhi on June 16. Shetti said it is time to remind the Bharatiya Janata Party (BJP) of the promises it made to farmers.
However, the impact of the farmers strike has decreased over the past few days. The supply of vegetables, milk and fruits to Mumbai and other cities improved and prices fell considerably.
The strike began on June 1. Following protests started by various farmers' groups, especially in western and central Maharashtra, Fadnavis held talks with the representatives of these groups on Saturday and promised to waive the loans of small and marginal farmers, who have five-acre plots.
The decision is expected to benefit 31 lakh farmers, who have not been able to apply for crop loans for past four or five years. The Maharashtra government is likely to spend about Rs30,000 crore to write off their loans. Fadnavis also announced that he would set up a committee of government officials and farmers' representatives to work out details of the waiver.
Close Story