Akhil Kumar, Jitender Kumar get opponents for pro boxing debut on August 5
Akhil Kumar and Jitender Kumar will be involved in undercard bouts in their pro boxing debuts on August 5, with Vijender Singh set to headline the card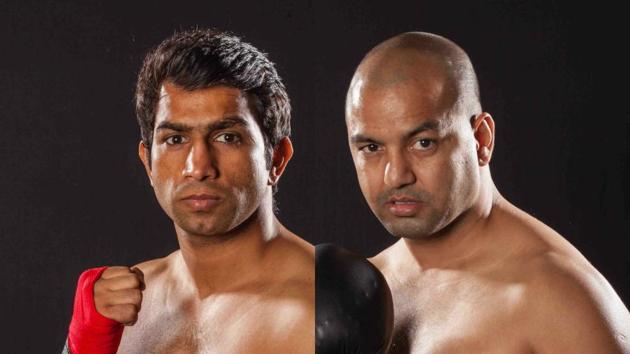 Published on Jul 19, 2017 06:08 PM IST
PTI, New Delhi |
Press Trust of India
Former Commonwealth Games gold- medallist Akhil Kumar will take on Australian Ty Gilchrist, while his protege Jitender Kumar will face Thailand's Thanet Likhitkamporn when the duo makes its professional boxing debut on August 5 in Mumbai.
Vijender Singh headlines the card and this will be the first time in nine years when the Beijing Olympians are seen in the same event.
Akhil, a former World Cup bronze medallist, is an experienced boxer and has represented the country in nearly 250 bouts during his amateur career.
READ | WBC title-holder Neeraj Goyat asks ministry to formalise terms for pro boxers
The 36-year-old Haryana-lad will face Gilchrist in a four-round, Junior Welterweight (63Kg) contest.
Gilchrist made his debut in the year 2010 and has fought 13 bouts since then with a total of 6 wins, including 2 KOs. Gilchrist has fought 68 rounds.
On fighting Gilchrist, Akhil said, "Yes, he is more experienced than me, but that does not make any difference to me. I am working on improving my technique as per the requirements of professional boxing and remembering my favourite punches as well. It's great that he is experienced, people will enjoy our fight and I like challenges."
Gilchrist was as confident if not more.
READ | Vijender Singh will face his toughest opponent in me: Zulpikar Maimaitiali
"Akhil was a very good amateur boxer but professional boxing is a lot different. I've had some good tough fights in the pro circuit and Akhil has never experienced what it's like going into deep water with little gloves. I believe my 13 fights as a pro will be all the difference when push comes to shove," he said.
Jitender, also a World Cup and Asian Championships bronze-medallist, will be up against a rival who is comparatively new to the pro-boxing circuit having made his debut earlier this year. Jitender will take on Thanet in the Lightweight (61Kg) four-round contest.
"Debut in pro boxing will be a new beginning for me, I am working really hard to improve my technique and gain physical fitness. I am not scared of my opponent. I know I am training well, so I am confident of winning my debut fight," Jitender said.
Close Story