Police book Sushil Kumar after his camp roughs up rival wrestler's brother
Sushil Kumar's supporters and Parveen Rana's camp clashed at the Indira Gandhi Indoor Stadium in New Delhi during the wrestling trials for the 2018 Commonwealth Games. He has been booked by Delhi Police.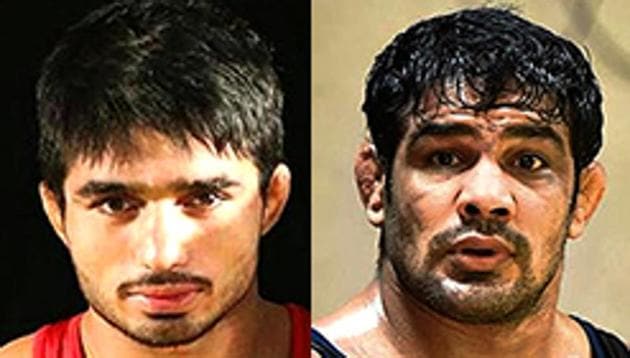 Updated on Dec 30, 2017 01:45 PM IST
India's double Olympic-medallist Sushil Kumar is again in the news. The London 2012 and Beijing 2008 wrestling medallist plunged into controversy on Friday after his supporters were alleged to have indulged in a brawl with rival competitor Parveen Rana's camp. Sushil Kumar was booked by the Delhi Police on Saturday.
Sushil Kumar and his supporters have booked under IPC section 341 (wrongful restraint) and 323 (voluntarily causing hurt), Parveen Rana's brother, attracting an imprisonment of up to one year or a monetary fine of Rs 1,000 or both, police officials said.
Deputy Commissioner of Police (Central) Mandeep Singh Randhawa confirmed that an FIR has been lodged but the reason behind the brawl was being probed. He said the police have not received any complaint against Parveen Rana or his followers from Sushil Kumar or his camp.
The brawl happened at the Indira Gandhi Indoor Stadium in New Delhi during the trials for the 2018 Commonwealth Games to be staged in Gold Coast, Australia and the Asian Championships.
READ | Wrestling star Sushil Kumar on the run after school children 'ill-treated' in Australia
It proved to be a free-for-all on Friday afternoon. Sushil Kumar had just defeated Parveen Rana in the 74kg class in a close contest. Although Sushil Kumar, recently crowned the national champion on his comeback following a row in the build-up to the 2016 Rio Olympics, won, his supporters vent their ire on the defeated wrestler's corner.
Soon after the bout, a group of over 40 people entered the warm-up hall, adjacent to the main wrestling arena, and mercilessly beat up Rana's group, including his brother Naveen. He was left helpless by the sheer number of people who attacked him. Once he fell, the group vanished from the venue.
READ | Sushil Kumar on National wrestling meet walkover farce: What can I do
Sushil Kumar's supporters were reportedly annoyed with Parveen Rana, alleging that he tried to bite Sushil on his hand during the bout. A Hindustan Times reporter present saw Sushil's supporters calling Parveen 'cheat' even while the bout was on.
Wrestling Federation of India president Brij Bhushan Sharan Singh said he heard about the ruckus, but had not received any complaint.
"Someone told me Praveen's brother got hurt. But nothing happened inside the playing area. If someone got beaten up outside, the police will deal with it," he said.
READ | Sushil Kumar 'walks over' to gold at National Wrestling; Sakshi, Geeta excel
Sushil Kumar said he was inside the room and had no idea who all were involved. "None of my friends or supporters were involved in the brawl," he said, adding that such things shouldn't happen in sporting events.
Fearing a backlash, he was escorted from the venue by his supporters in a car.
(With inputs from PTI)
Close Story