Kejriwal attacked: AAP blames 'Sukhbir & his goons'
Feb 29, 2016 09:31 PM IST
The Aam Aadmi Party (AAP) on Monday squarely blamed Sukhbir Singh Badal for the attack on AAP national convenor Arvind Kejriwal's car at Ludhiana on Monday afternoon, at a press conference in Chandigarh later in the evening.
Ludhiana: Delhi chief minister and Aam Aadmi Party (AAP) convener Arvind Kejriwal came under attack from a mob here on Monday on the last day of his five-day Punjab tour, for which the party blamed Shiromani Akali Dal (SAD) president and Punajb deputy CM Sukhbir Badal. His Innova was pelted with stones and its windscreen was damaged , even as Kejriwal escaped unhurt, when he was leaving a resort near Hasanpur village after an interaction with industrialists.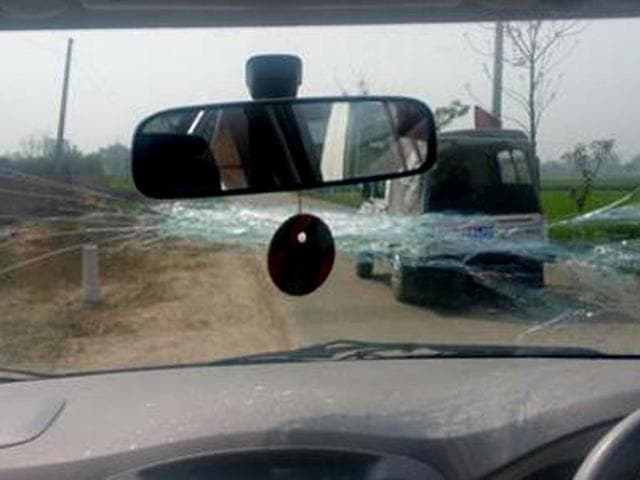 Kejriwal, AAP's state organisational head Durgesh Pathak and party MP Bhagwant Mann were in the car when the attack took place around 12.20pm.
The police registered a case against unidentified assailants under sections 336 (endangering life or personal safety of others) and 427 (mischief causing damage) of the Indian Penal Code (IPC).
Earlier, Kejriwal's convoy managed to enter the venue through the side gate around 10.30am despite the presence of protesters, including victims of 1984 anti-Sikh riots and members of Hindu organisations. The Sikh agitators accused Kejriwal of siding with Congress leader Jagdish Tytler, an accused in riots cases.
Ludhiana zone coordinator Col CM Lakhanpal alleged that the police had allowed the attackers to reach the area from where the convoy was to leave the venue. He also alleged the involvement of a personal assistant of an Akali MLA.
Addressing a press conference in Chandigarh on Monday evening, AAP's Punjab affairs in-charge Sanjay Singh said, "The attackers were trained goons and stationed in the vicinity of the venue where Kejriwal had met industrialists. The attack happened on a new route suggested by the local police. Even the police remained mute spectators to the attack." He went ahead and said a brother of an Akali MLA was "seen there" too.
Refraining from directly blaming the police, he termed cops as "mere puppets" in the hands of the ruling parties. Underlining that Kejriwal had faced protests throughout his five-day tour, he said that none earlier got violent as the police too did their job. "It appears that a rattled SAD and specifically Sukhbir Singh Badal orchestrated this attack ... in an effort to 'teach Kejriwal a lesson'," he added.
He also alleged that, "so far, we have learnt that there were four local Akali leaders present at the site, including a brother of an Akali MLA."
Durgesh Pathak said the car was "in control of the protestors for three to five minutes; and they could have done anything".
Meanwhile, in his address at Ludhiana before the attack, Kejriwal promised to set up an inquiry commission to look into 'political vendetta' cases registered by the Badal government, if AAP comes to power in Punjab next year. He also visited the house of Satpal Singh of Bohapur village. The latter's sons, Jatinder Singh and Harinder Singh, were shot dead in an allegedly fake encounter in Ludhiana in 2014.
He said Punjab's industry was presently engulfed in corruption and he planned to restore its 'lost glory'. "In the past five days, I have experienced that all sections of people across the state are unhappy, be it farmers, industrialists or the common man," he said. (with HTC inputs)
"Exciting news! Hindustan Times is now on WhatsApp Channels
Subscribe today by clicking the link and stay updated with the latest news!"
Click here!