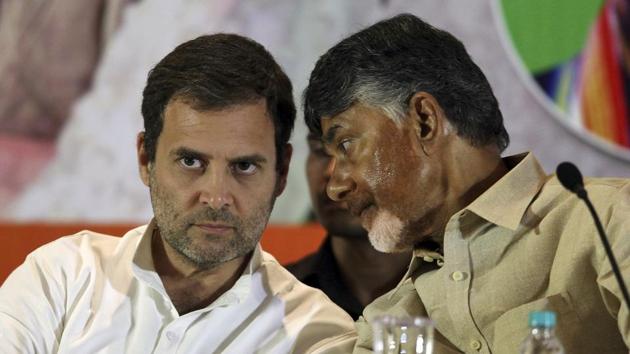 Won't rule Telangana: Chandrababu Naidu on KCR's 'Andhra rulers' warning
"The TRS is making a false propaganda. I won't rule Telangana," Andhra Pradesh chief minister N Chandrababu Naidu said.
UPDATED ON DEC 05, 2018 09:53 PM IST
Andhra Pradesh chief minister N Chandrababu Naidu on Wednesday said there would be no role for him to play in Telangana if the Maha Kootami (grand alliance) wins the assembly elections, hours after TRS president K Chandrasekhar Rao (KCR) warned against "Andhra rulers" seeking to gain control over the state again.
"The TRS is making a false propaganda. I won't rule Telangana. Only Telangana leaders will do it," Naidu told the media in Hyderabad in the presence of Congress president Rahul Gandhi and leaders of the alliance parties as they wound up a high decibel campaign for the assembly elections scheduled to be held on Friday.
Earlier KCR had cautioned people to be wary of Andhra rulers, who are seeking to gain control over Telangana once again.
"We have achieved separate statehood for Telangana and liberated it from Andhra rulers after a prolonged fight for over a decade. Should we hand over our precious Telangana back to the Andhra party?" KCR asked.
Rahul alleged that Rao had supported several anti-people decisions of Modi government including demonetisation and GST because it would give scope for massive corruption.
"We shall strive to realise the dreams of thousands of youth who had fought to bring statehood to Telangana," he said.
Read more: Vote share in 2014
Answering a question, Rahul expressed confidence that the Maha Kootami would win the Telangana elections hands down.
"There is perfect coordination among all the alliance partners and in future, too, they would work together. KCR's body language shows he is insecure and is on the losing side," he said.
Rahul Gandhi said his party would consider farmers as the biggest assets of the country unlike Prime Minister Narendra Modi who treated them as big liabilities.
"We have announced waiver of crop loans of farmers only because agriculture sector is the biggest asset for the nation. When Modi could waive bank loans worth Rs 3.5 lakh crore of just 15 people, we can as well bear the burden of waiving the crop loans of a few crore farmers," he said.
He said the Congress-led grand alliance, if voted to power in Telangana, would also focus on bringing in new technologies in the agriculture sector, providing a wide marketing network for the agricultural produce and extend training for their skill development.
Read more: Win map in 2014
In the morning, Rahul and Naidu jointly addressed an election rally at Kodad and appealed to the voters to bring Maha Kootami to power with a thumping majority.
Gandhi said that in the last four years, KCR and his family concentrated only on looting the public money in the name of redesigning the irrigation projects. "While farmers' suicides continue to take place in big numbers, KCR filled the coffers of rich contractors and that of his own family," he alleged.
"While the people who had dreamt of a golden Telangana suffered, the income of KCR's family went up by 400%. That's why people have given new name to KCR — Khao Commission Rao," said Gandhi.
For full coverage of Telangana assembly elections, click here
Close