Latest from arunachal pradesh
Amit Shah said 9,000 militants from the region have surrendered during the last eight years of the Narendra Modi government at the Centre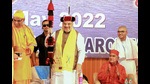 Amit Shah is on a two-day visit to Arunachal Pradesh.

Written by Shubhangi Gupta | Edited by Chandrashekar Srinivasan
, New Delhi
Shah visited Ramakrishna Mission Ashram in Narottam Nagar in Tirap district of Arunachal Pradesh during his two-day visit to the state.

According to an Assam state disaster management authority report released on Monday, two deaths were reported in Cachar district, taking the toll in the state since Friday to five.

The Indian Army's Eastern Command chief on Monday said China's People's Liberation Army (PLA) is engaged in infrastructure capacity enhancement across the international border in Arunachal Pradesh.